When the economic downturn hit the country, a team of young apprentices at Komatsu UK were given a task of refurbishing this classic old Komatsu machine. The chosen machine for the restoration was one of the very first models to be produced at Komatsu UK's Birtley, factory, a PC210-3. The machine serial number K10592, was among 523 models of this type that were sold into the UK market, this one having been shipped out from the factory on the 21st September 1988.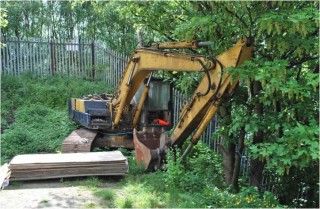 In total, 1,867 PC210-3 machines were produced at the Birtley manufacturing facility from February 1987 to December 1990. The chosen project machine K10592, had still been in regular use until May 2008; a credit to the Komatsu products quality and durability. The machine had been lying dormant for a number of months and although still mechanically sound, cosmetically it was looking rather sorry for itself.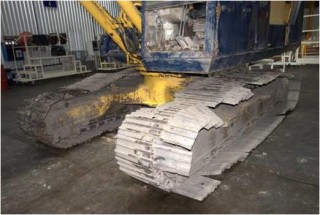 The aim of the exercise was to rebuild the machine back to its former glory and to make it look and work as if it had just come off the production line, whilst giving the young apprentices valuable experience and understanding of how the old machines were built in comparison to the modern machines they work on today.
The team who took part in this restoration comprised of seven 1st & 2nd year assembly apprentices, two from paint, and three welders from the fabrication department. The lads were overseen by check and adjust team leader, Albert Richardson, who has over 20 years experience with the company.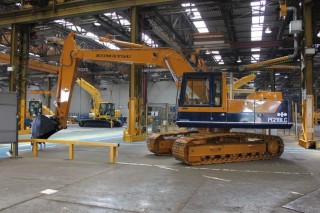 Each group of apprentices worked in their specialist field, with the fabrication and welding teams carrying out repairs to the work equipment, revolving frame and undercarrige components. The paint apprentices prepared all the major components for priming and paint. This gave them a great understanding of the improvements that have been made to the paint process over the years.
According to the team, the most nervous part of the whole experience came when they fired up the machine for the first time after the re-build. When the ignition key was turned and the engine roared into life, it was a great relief to all concerned, it was even more gratifying when all the hydraulic rams were put through their paces and there were no leaks to be seen.

The team behind this excellent restoration, which took around 8 months to complete, were assembly apprentices, Gary Errington, Ryan Oliver, Mathew Walker, Richard Taylor,Alex Pritchard,Phil Waters and Guy Molinoux.
Paint apprentices were, Jordan Dean &Kyle Gray
Fabrication apprentices were, Chris Old,Ryan Cramb & Kieran Diezel .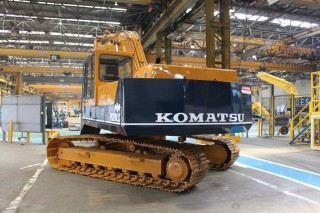 I think you would have to agree, the lads have done a great job and they must be very proud when they see this machine, which is rapidly becoming one of the highlights for visitors, on display inside the factory.