Since then, David Einig Contracting (DEC) has developed a fully-fledged plant hire fleet, including excavators up to 60 tonnes, dumpers, shovels, crushers, screeners and road sweepers.
In fact, the company has rapidly become one of the leading earthmoving contractors and plant hire firms in the region. It has more than 100 staff working on contracts ranging from waste management facilities to large scale recycling projects. In the year to 31st May 2015 DEC practically doubled its annual turnover to £12m, making a very tidy £200,000 after-tax profit in the process.
DEC is now building new headquarters for itself in Milton Common, just west of Thame. The new 8,000 square foot facility, set for completion this summer, will include plant workshops to centralise all of DEC's plant maintenance, office space to accommodate its growing workforce and an academy for training the next generation of plant operators.
For this job, David Einig has been using three of his Kubota mini-excavators.
"The Kubota KX080-4 mini excavator was ideal for digging the foundations of the building," he says. "The Kubota KX057-4 has undertaken the groundworks and drainage, and our Kubota U17-3 micro excavator has completed the small digging jobs at the side of the road."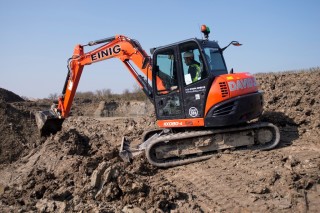 He adds: "Part of Kubota's appeal has been the service and after-sales support on offer. We have built a strong relationship with our Kubota dealer Boss Plant Sales over the years, who consistently deliver excellent customer service. With the proven reliability of the Kubota machines, it's very rare that we have a problem but operational issues can occur. On the odd occasion that they do, our contact Dave Simms has always ensured they are resolved quickly and efficiently.
"Finally, and perhaps most importantly, whilst we know the performance of Kubota machinery is strong, our drivers appreciate the operational capabilities of Kubota excavators, which ensures the job gets done on time and on cost. When using Kubota machines we know that executing our project targets is all but guaranteed, which is why we chose Kubota to assist with the building our new headquarters."