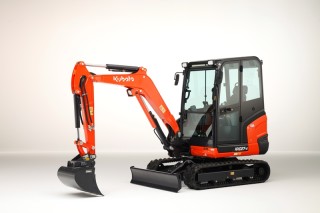 At 2590kg (2520kg in canopy version), it replaces the KX061-3 in the Japanese manufacturer's mini excavator family and boasts several design improvements.
There is now a larger cab – the biggest in its class, according to Kubota – and bigger doorway, with improved ergonomics and a forward-facing digital monitor, meaning that the operator doesn't have to look sideways.
The 17.5kW four-cylinder Kubota V1505-E4 engine delivers 2250 rpm.
The boom and dipper hydraulics/cabling have been tidied up. They are now no wider than the width of the boom, meaning they are less likely to suffer any damage while the machine is in use. And for the same reason the excavator light is now underneath the boom.

A tool box has been added underneath the cab for easier maintenance.
It is available in Standard and High-Spec versions, with the latter benefiting from AUX oil flow with proportional flow control and auto shift for smoother dozing and turning.
The new KX027-4 is a shade larger than KX061-3, with a length of 4370mm (1300mm arm). Maximum digging depth remains 2740mm but lifting power is bosted.
According to the publicity blurb, "the KX027-4 has a powerful and well-balanced arm and bucket that allows the operator to dig fast, deep and more efficiently even in the toughest conditions".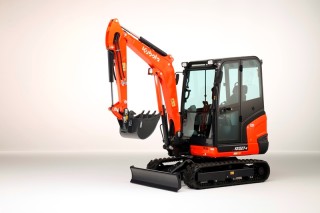 Kubota UK managing director Dave Roberts says: "At Kubota, we are constantly taking on the feedback of our customers and dealers to ensure we bring new machines to market that offer the performance requirements and operational comfort they seek."