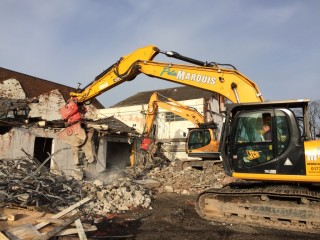 Pete owns Pete Marquis Contractors, which is based in Preston and carries out civil engineering and demolition projects across the northwest. Starting out in 1991 with two staff, he has expanded the company and currently own 35 excavators ranging from 1.5 to 65 tonnes.
He was aware of other quick couplers on the UK market, but after looking into the Lehnhoff Variolock fully automatic quick coupler system he decided it was the best way forward.
The initial investment was a big consideration but he was able to see that the future benefits outweighed the upfront cost.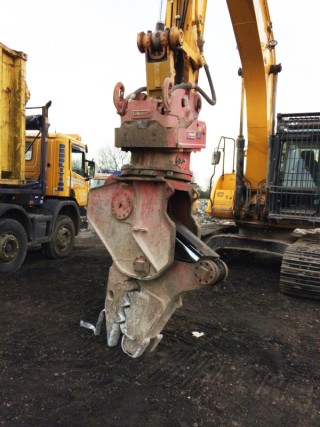 In the video below, Lehnhoff dealer Worsley Plant visits Pete on site in Blackpool, demolishing the old TVR car factory. Six months on and Pete Marquis now reckons that the Lehnhoff systems will have paid for themselves within 18 months.
If he is using three labourers and one machine driver on a job, it costs £25 to swap an attachment over from a selector grab to a shear. On average this means £25 in down time. If the driver swaps four times a day, this gives a saving of £12,000 a year, meaning an 18-month payback period.
Pete says that in future all his new excavators will be fitted with Lehnhoff. He says that making it so quick and easy to change tools has the added benefit that operators will actually change tools, rather than making do with the wrong one juts to avoid the faff of a changeover,
As Pete says: "This means no more bent selector grabs trying to dig out footings. No more broken teeth on buckets by trying to break concrete slabs instead of using a pecker. It's simple – 15 seconds! No more oil wastage. No more broken fittings. No more broken pipes. It's fantastic!"