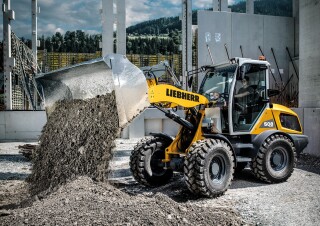 The Liebherr L 506 and L 508 loaders, weighing 5 and 5.7 tonnes respectively, have been overhauled. They are now available in Speeder versions and High Lift lift arms are available as a option.
And now there is a 4.6-tonne model, the L 504.
The L 508 is pictured at the tope of this page; the L 504 is at the bottom.
Liebherr first launched these compact loaders 2013. The update includes a redesigned operator's cab, with more glass than ever – right down to the foot well – to give an unobstructed view of lift arms and attachments. The rear screen is curved at the sides, for an unobstructed view behind, although a reversing camera is also available as an option.
Due to customer demand, the L 506 and L 508 models are now available as Speeder variants, able to reach a top speed of 30 km/h.
As is the case for the L 504, the machine height of the L 506 remains under 2.5 metres, making it easy to transport on a trailer. The new L 508 has become larger and wider, with a 3,900kg tipping load.
| Model: | L 504 compact | L 506 compact | L 508 compact |
| --- | --- | --- | --- |
| Tipping load: | 3,000 kg | 3,500 kg | 3,900 kg |
| Bucket capacity: | 0.7 m³ | 0.8 m³ | 1.0 m³ |
| Operating weight: | 4,600 kg | 4,970 kg | 5,700 kg |
| Engine output: | 34 kW / 46 hp | 47.5 kW / 64 hp | 55 kW / 74 hp |