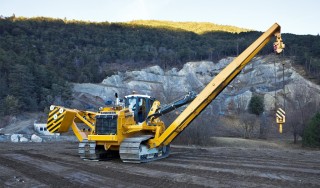 The RL 56 has a a lifting capacity of 72 tonnes and a Stage IV compliant Liebherr diesel engine with selective catalytic reduction technology (SCR) to eliminate the need for a diesel particulate filter (DPF).
The Liebherr diesel engines operate at a slow and steady 1800 rpm to keep fuel consumption and engine wear to a minimum. The load-sensing implement hydraulics are also designed to minimize fuel consumption, supplying only the exact amount of oil that is needed.
The nature of pipelaying work means that the machines have to be designed to resist toppling tendencies. The compact arrangement of the hydrostatic travel drive components here results in a low centre of gravity for the Liebherr machines. The undercarriage is also extra-long to ensure offer maximum stability, especially on slopes.
The hydrostatic travel drive allows the operator to maneuver the machine easily and with maximum precision even on steep slopes. The safety brake (parking brake) opens and closes automatically, preventing the machine from rolling on inclines.
Thanks to the weight distribution and centre of gravity extending the position of the counterweight, maximum lifting capacities are available over the entire working range.
A hydraulically powered winch permits stepless and precise speed control of the load hook. The load is lowered reliably without any loss of force. As soon as the winch stops moving, the automatic safety brake is activated and holds the load securely. This degree of boom and winch control ensures that pipes can placed be placed with precision

Instead of a second winch, Liebherr installs a boom cylinder on its pipe layers. It is maintenance free and prevents unintentional folding of the boom. This approach also eliminates the risk of an over-pull of the boom as it is with a boom winch system. The boom cylinder also has hose break protection that prevents lowering of the boom in the event of pipe breakage.
Other safety features include a standard free-fall device of the lifting winch. There is also the option of an overload warning device with automatic power cut-off.
Inside the cab, the RL 56 has a touch-screen control panel display. The operator's seat is angled 15° to the left toward the boom to give the best view of the load being moved, and of other pipe layers working along the line.