No not that one. How did that get there? This one here, below.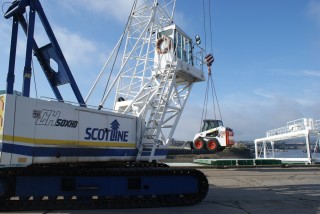 Phew! That's better.
You'll recognise that it shows a Bobcat S130 skid-steer loader being lifted by a 50-tonne RB CH50XHD, one of the later Ruston Bucyrus hydraulic models before the demise of the UK's last crawler crane producer in the 1990s.

Both machines are working at a new cement installation at Scotline's Rochester Transit Terminal on the River Medway in Kent in the UK. The Bobcat has been bought for shiptrimming work.
When a cement ship docks at the Scotline Transit Terminal, most of the unloading of the cement in the hold is carried out by a trailer-mounted extraction system on the dockside, which pumps cement from the hold via a new pipeline system to four large silos, from where it is loaded via a hopper into lorries for supply to customers.
As the hold on the cement ship empties, there comes a point where the discharge tube cannot reach the corners and this leaves a significant amount of cement remaining in the hold. At this point, the Bobcat S130 skid-steer loader, which is equipped with an optional front door, is lowered by crane into the hold, where it first forms new mounds of cement in the centre of the hold for the discharge tube to extract and is then used to ensure that the hold is cleaned out as much as possible.
Down she goes...
Scotline purchasing manager Ian Gould says: "Working inside ship holds is particularly demanding because the job must be completed as quickly as possible, and can take hours, in dusty and hot conditions. We are very pleased with the performance of the Bobcat S130 loader which has been designed specifically with the durability and reliability you need for tough applications like this."