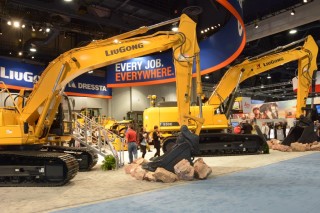 There are dozens of Chinese manufacturers – there must surely be massive consolidation to come at some time in the future – and the product quality varies, inevitably. At the top end, LiuGong is generally recognised to be one of the best of the Chinese manufacturers, along with the likes of Sany and a small handful of others.
LiuGong has been selling machines in Europe for seven years and in June 2012 opened its European headquarters in Almere, Netherlands.
New from LiuGong at ConExpo was the 950E crawler excavator – one of the largest that it has ever produced.
Operating weight is 48 tonnes, maximum digging depth is 6.5m and maximum dumping height is close to 6.9m. Bucket capacity is 3.2 cubic metres.
LiuGong says that development of this machine started with its Intelligent Power Control System (IPC) to match engine speed with main pump flow. The control valve and cylinders have been optimised to improve front-end performance, efficiency and fuel consumption, while cutting down on the damper loss of the hydraulic system, the company says. The 950E has six working modes to choose from: Power, Economy, Fine, Lifting, Breaker and Attachment.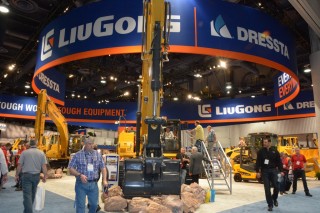 The 950E is powered by a Cummins QSM11 375hp diesel engine, and there is a fuel-saving automatic idle speed function that slows the engine to 1000rpm after just seven seconds when the machine is at rest.
Inside the cab, there is plenty of daylight, with wide windows and an enlarged skylight. Cameras help out with the rearview, with what's behind you displayed on the LCD monitor in the cab. The pilot lock handle installed on the handrail box prevents unexpected movement as it interlocks the machine ignition system.
There is no news yet on when this machine will be available in Europe, but we are promised an announcement in the near future.