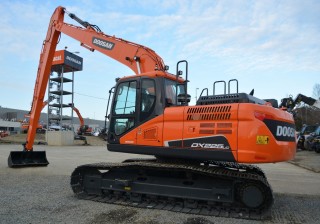 With an 8.5-metre boom and 6.2-metre arm components, lake dredging, drainage work and sand & gravel pits are typical target markets for the new DX225SLR-5.
To carry out these applications, the DX225SLR-5 has a maximum digging reach of 15.38 metres, a maximum digging depth of 11.65 metres and a maximum digging height of 13.08 metres. The bucket digging force is 10.0 tonnes and the arm digging force is 6.0 tonnes.
With an operating weight of 24.4 tonnes, the DX225SLR-5 is powered by Doosan's six-cylinder, turbocharged DL06P water-cooled diesel engine, providing output of 124 kW (166 HP) at 1800 RPM. Exhaust gas recirculation (EGR) and selective catalyst reduction (SCR) after-treatment technologies get it to Stage IV emissions regulations.
New fuel-saving features include auto-idle shut-off and Smart Power Control (SPC), to optimise the balance between the pumps' output and the engine. There is also a trip-meter setting, for checking periodic fuel consumption.

As on the regular LC-5 version, the cab on the SLR-5 is bigger and comfier than on the previous DX225SLR-3, with a system that enables attachments to be operated from either the joystick or a two-way pedal. The operator can select 10 pre-set configurations for attachments and hydraulic flow and pressure data can be pre-selected directly from the control panel, allowing a quick change of attachments without the need for a manual set-up.
The joysticks have also been shortened to reduce the effort required to operate them and an additional pedal for straight travel has now been installed on the left of the main travel pedals, a very useful feature when travelling straight over longer distances. The operator console has been moved onto the seat suspension to reduce vibrations. This gives the operator better control with the joystick in rough operation, Doosan says.