Lynch Plant Hire, invested in the new Cat machines (through Finning) to bolster its plant hire fleet with a more environmentally friendly range of machines. The Cat D6Ns, Cat 320Es and Cat 308Es are all equipped with engines certified as meeting European Union Stage IIIB emission standards.
Commenting on the deal, Merrill Lynch, Operations Director at Lynch Plant Hire said: "When we first invested in the two Cat D6Ns from Finning in August 2012, we were keen to showcase the capabilities of IIIB compliant machines to our customers. The sales support provided by Finning allowed us to fully understand the most effective machines that we can integrate into our plant hire fleet, and so far, customer reaction has been positive.
"Having these machines in our fleet has also opened up the possibility of getting involved in a wider range of developments. The Crossrail infrastructure project in London, for example, will only use machines that are compliant with EU emissions regulations, and this is now something that we have the opportunity to get involved in."

The Cat 320E hydraulic excavator is a machine suited to plant hire fleets with its low emission engine leading to lower fuel costs. The full-size cab and improved service access, combined with a 6'7" tail swing, make it suitable for a diverse range of applications, optimizing productivity and potential profit.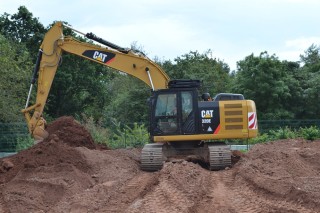 Dermot O'Connor, sales representative from Finning said: "The comprehensive range of Stage IIIB compliant machines that Finning now really strengthens the range and versatility of the value based solutions we are able to offer. We are hoping to build on this initial £2million investment to establish a solid working relationship with Lynch Plant Hire, and I look forward to doing more business with them in the future."