In Europe especially, one can often see familiar looking machines in very unfamiliar colours, I have to admit I think it's great to see some of our favourite machines sporting the company colour scheme of their owners. Having said that, how many of us would want to be seen in one of these pink numbers!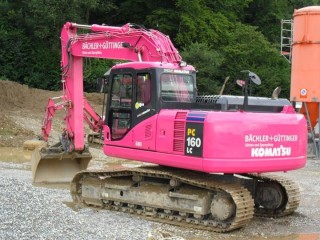 First up is this Komatsu PC160-7 which I spotted on regular Digger Blog reader Anthony Chaput's wall. The machine is owned by German company Bachler + Guttinger who specialise in sports field construction, landscaping and garden maintenance and have a fleet of machines all factory finished in this unusual colour.
Our good friend Tom Aspin also posted this photo of a pink motor grader that he saw at a Ritchie Brothers auction site.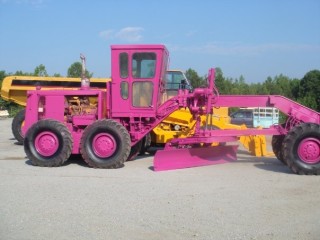 Whilst these rare colour schemes draw attention to the company's who initially commission them, I would have thought it would cause problems when it comes to trade in the machines in question.
Pink furry dice anyone!
If any readers have seen or indeed operate an unusual colour machine we would love to see photos of it here on the Digger Blog.