Michael spent some time on this Caterpillar D5M XL, which was fitted with a PAT blade on a site in Herefordshire back in 2008, although a useful tool Mike said it struggled a bit in the heavy clays which are notorious in the area.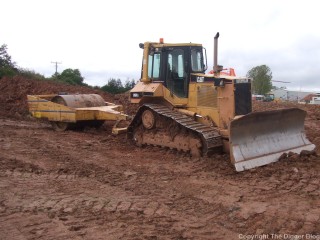 Michael is seen here on the right standing on the track of his mount in 2009. The machine is a Caterpillar D6M LGP and it is seen parked alongside a vintage Cat D7E, which had been brought out for a spin by its owner.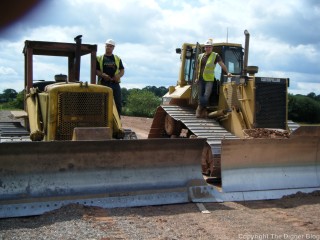 This is a nice comparison shot of the two dozers representing the old and the newer styling of Cat machines.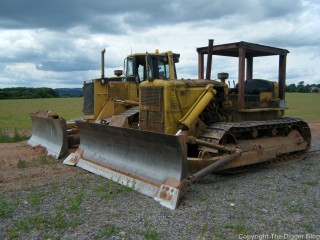 In this photo, we see the same D6M LGP parked up behind a JCB JS130, which Michael had been operating during the construction of a crop irrigation pond, this was the same jobsite where the D6M got severely bogged in as featured in the recent Accidents will happen post!
This Komatsu D65E-8 was working on the last site that Michael worked on in the UK before heading off to Australia.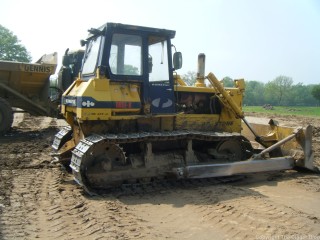 Here's a great shot of a Caterpillar classic in action with one of Komatsu's more modern dozers. This Cat D8H has had a D8K engine fitted to it according to Michael. It was working alongside the Komatsu D65EX on a cut & fill operation in Hereford.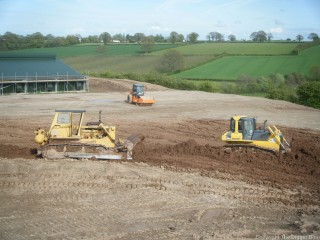 Finally in this batch, a rear view of the classic Cat D8H, this machine also looks to be sporting the D8K style cab too, and according to Mike this machines is sometimes deployed with scraper box.
We thank Mike for sharing these shots with us and look forward to the exciting shots from your adventures down under!