The first thing that takes your eye when you arrive at the venue is the restored Caterpillar D8H which is set up on a concrete pad just outside the entrance.
A plaque in front of the machine briefly tells its story.
The first owner of this machine was the National Coal Board at the Grimethorpe colliery in Yorkshire who took delivery of it in 1959.
In January 1994 the machine was purchased from its last owner in Burbage, Hinkley, Leicestershire. It was in need of restoration so a small team of volunteers set out to bring it back to its former glory.
Cat supplied the parts for the D8H of which 98% were available from the Caterpillar parts distribution system. Local Cat dealer Finning's also provide special technical assistance to the restoration team.
The volunteers worked in their own time for 18 months to complete the job of replacing damaged and worn parts until restoration was complete in September 1995.
You would have to agree they did a cracking job on this old classic.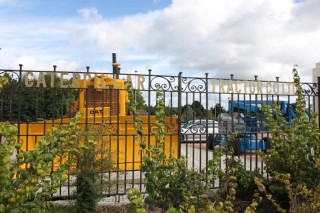 Back up to date now, with this D5K LGP model dozer which is currently serving time on the demonstration fleet.
This machine is fitted with a Cat C4.4 Acert engine, with a net power rating of 96hp and features the innovative SystemOne undercarriage, which according to Cat reduces maintenance time and costs. I was very impressed with the level of comfort in the cab and the panoramic view of the blade from the seating position.

Of course no site visit would be complete for me without a look at my favourite machines, the 360 degree excavators, having spent well over 30 years operating these machines they do hold a special place in my heart!
This time at Desford there were two examples on show a 314D LCR, which I spent some time on during my last visit and a new 312D L model with the new style cab.
The 312D is Caterpillar's latest offering of this highly popular model which is powered by a 96hp Cat C4.2 Acert engine.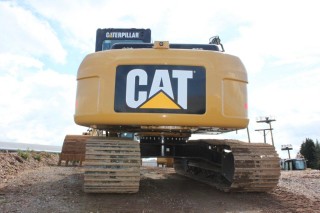 Here on the Digger blog we are always very interested on how well the operator is catered for and in that department the 312D did not disappoint.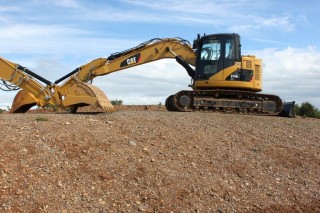 The large spacious cab is well appointed with a fully adjustable air suspension seat which can be fitted with in seat heating. Fully adjustable low effort joy sticks offer effortless operation which is essential for reducing operator fatigue during those long working shifts.
An all new monitor has been introduced which features a full colour graphical display, it also offers a pre start check where the system checks essential levels of engine and hydraulic oils and coolant levels then informs the operator if these items require topping up.
Another new edition to the fleet at Desford was this TH417 telescopic handler.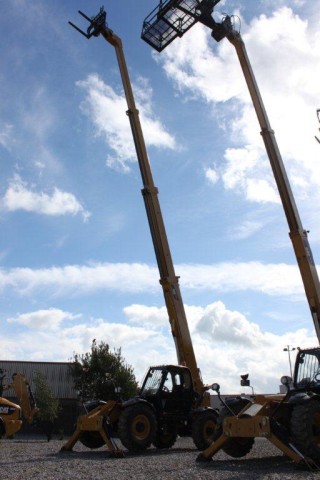 The TH417 is the second largest telescopic handler offering from Caterpillar and has 4000kg load capacity and will reach up to 17 metres.