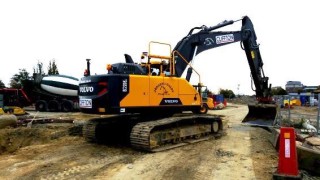 Alas, Volvo does not disclose whose hybrid is clearly not all it has been cracked up to be, but there are not exactly many to choose from.
Volvo launched the EC220E in February 2015 and says that customers have been fulsome in their praise of its fuel efficiency and operator comfort. Jörgen Bäckström, for example, owner of Swedish contractor Jidab AB, bought an EC220E six months ago to replace his old EC210B to keep up to date with Stage IV emissions requirements. He reports fuel savings of three litres per hour compared to the EC210B, which works out at about 5,000 litres a year.
Prompted by such testimonials, Volvo Construction Equipment decided to commission side-by-side tests of the five main competitor machines in the same 20-25 tonne weight class –including 'a well-known hybrid' to see how well the EC220E stacks up. The tests were carried out at two separate customer locations in the UK and Norway by an experienced operator, who had taken the time to familiarise himself with each of the machines to ensure a fair comparison.
Each machine was set to work loading a truck with hoggin and the payload, cycle time and fuel consumption were measured for seven loading cycles in both 'high power' and 'customer' modes. The measurement was taken five times over the course of 10 days to find an average value, and the productivity (tonnes per hour) and fuel efficiency (tonnes per litre) were calculated based on 60-minute working hours.

Volvo says that its own EC220E came out on top in both productivity and fuel efficiency – even more frugal than the electric hybrid. The Volvo achieved up to 15% greater productivity and 22% greater fuel efficiency than the worst performing competitor machines when working in high power mode, it is claimed. When in customer mode, the Volvo EC220E reached a level of productivity 23% higher than the worst competitor and was 19% more efficient.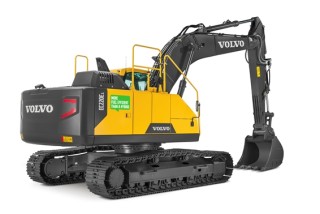 "We had a feeling that the Volvo EC220E was one of, if not the best in its class on the excavator market right now and were thrilled to see this confirmed in the competitor side-by-side tests," says Per-Erik Lindström, Volvo CE regional sales vice president. "This concrete data provides reassurance for customers both existing and new that the EC220E is a profitable and environmentally-conscious choice."