The Hydrema 912 articulated dumptruck, in its various guises, has virtually dominated the field in this size class for many years, proving to be a hit with many users up and down the country here in the UK and indeed around the globe. HE Services (plant hire) already run a large fleet of 912D's and that fleet is constantly updated, with new models to offer the customer the best and most up to date equipment all year round.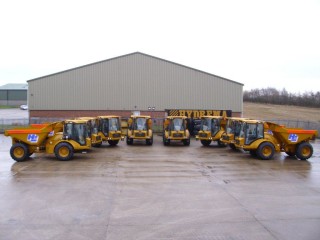 The Hydrema really comes into its own in soft ground conditions, and with the seemingly endless all year round rainy conditions we are experiencing in the UK of late, I can see these trucks becoming even more popular in the future, as we battle against the elements whilst still trying to get jobs finished in time and on schedule. The Hydrema's combination of high power to weight ratio, wide tyres and stabilised pivot steer system, come into their own in bad conditions.
According to Peter Durey, managing director of HE Services, "The 912D will match most tracked dumpers in soft going and is very fuel efficient and reliable, with low running costs and good resale values. We run a large fleet of Hydrema trucks and find the machines are perfect for teaming up with our 13 – 20 ton excavators"

I came across this excellent 912HM (High Mobility) model featuring customised black livery and Hydrema artwork, at the last Bauma trade fair in Munich in 2010. I will definitely be stopping by the stand in April this year to see what the Danish manufacturer has to show us this time around.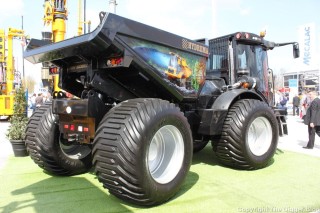 I have never driven a Hydrema personally, but I can honestly say I have only ever heard positive things from operators about them. Maybe I will get hands on with one in the future. I have a nice little job for one at home soon!