During the late 1970's and early 1980's George Wimpey became heavily involved in opencast coal mining at the Maesgwyn open cast coal site in South Wales, I can recall one of our colleagues who was deputy plant manager at dept 23 Southampton, Gareth Stokes, being sent down to set the plant operation up in its early stages.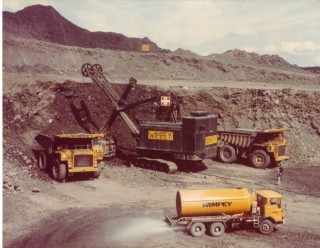 They had some very large items of plant on site including this Ruston Bucyrus 195 Rope controlled shovel, which was used to load the fleet of 85 ton capacity, Caterpillar 777 rigid dump trucks. The RB 195 had an operating weight of around 377 tons, with a maximum dipper capacity of 16 cubic yards.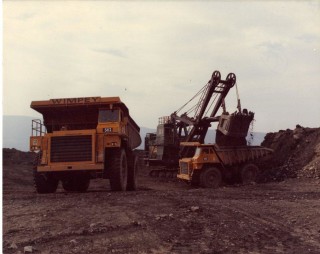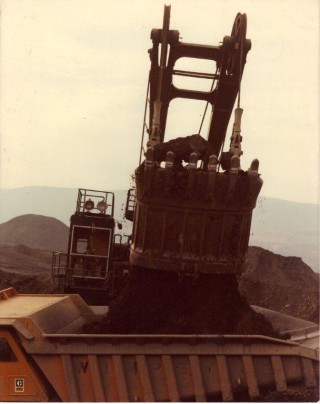 Another prime mover on site was this P&H (Harnischfeger Corporation) 1900AL electric mining shovel, weighing in at just over 400 tons this machine carried a dipper capacity of around 12 cubic yards, but this could vary depending on specification.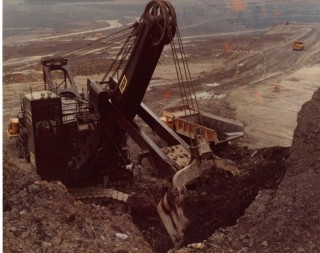 In the same way that coal sites operate to this day, once the overburden is removed by the larger items on site, the smaller machines are engaged to extract the coal from the exposed seams. A favourite tool for this task in those days, was the 38RB, one of Ruston Bucyrus's most popular models, apart from the famous 22RB. The coal was then loaded onto Wimpey's fleet of road going lorries and taken away for processing.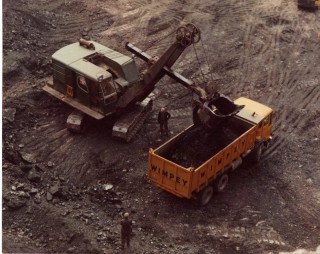 In this final shot we see the Ruston Bucyrus 195 about to discharge its 16 cubic yard bucket in to the skip of the waiting Caterpillar 777, another item of plant of interest in this shot is the Michigan wheeled dozer in the background, which I think could be either a 180 or a 280 model, I would love to hear from any reader who could give us a positive identification of the machine?.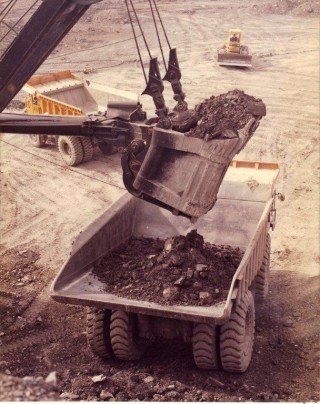 Well I hope you enjoyed this latest trip down memory lane, and if any readers have photos and stories you would like to share with us please don't hesitate to get in touch with us here at the Digger Blog.