This first machine is an Aveling Barford "maintenance grader", which was essentially a stretched Ford tractor unit with a simple grader blade assembly fitted to it. I can't imagine the visibility from the cab to the blade was very good at all! This shot was taken on the A1(M) road construction job near Doncaster around 1960.
Another machine from Aveling Barford now and a much more conventional motor grader shape , based on the American Austin-Western 100 series "Pacer" this 4x4 model was shot at work on the M1 motorway job near Royston around 1967.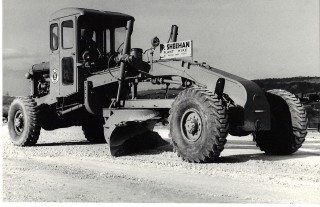 Moving on to a couple of examples from the Caterpillar stable now. First up is this Cat 14E model seen here working for the famous earthmoving outfit John Jones (Excavations) Ltd who have been in the news recently as there has been talk of them selling up. There are no details on where this machine was working or what year the photo was taken. Perhaps some sharp eyed readers can shed some light on it?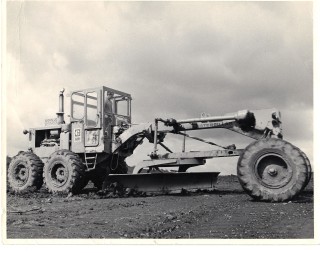 Another Caterpillar product now, the no16 motor grader. Officially launched in 1963, the Cat 16 was the largest motor grader available at the time. It was powered by Caterpillars 225hp D343 turbocharged engine and featured a whopping 14 foot blade. Probably one of the most famous motor graders of all time the 16 had a production run of 10 years, after which it was to be replaced by the 16G series.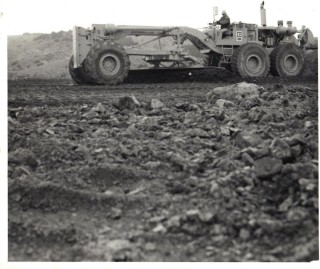 This Wabco (Westinghouse Air Brake Company) 888 model was the motor largest grader produced by the company when it was unveiled in 1967, similar to the Cat 16, in the fact that it too had a 14-foot blade it was powered by a slightly more powerful 230hp GM diesel engine.

This Austin Western Super 301 model seen here in this promotional photo, was offered from 1971 onwards, after the takeover by the Clark Equipment company.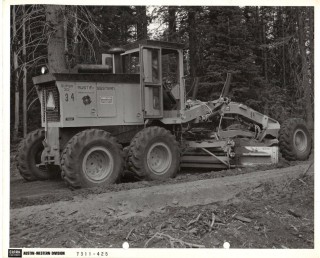 This bizarre looking beast is the Raygo Giant, which as its name suggests was something of a monster in the grader world! It featured double articulation and two 318 General Motors diesels engines driving single axles fore and aft. This machine was really designed for heavy duty work and its blade didn't feature all the positioning options of most mainstream graders, as such the concept didn't really catch on and Raygo went out of business in 1985.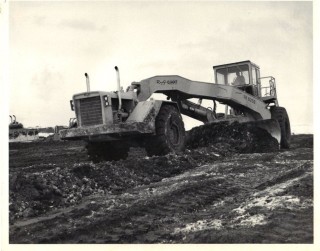 Finally in this batch, a nice colour promotional shot of the Komatsu GD825A-2 motor grader. This machine featured a 16-foot blade and had an operating weight of around 58,250 pounds, it was powered by Komatsu's 280hp diesel engine. This machine was officially launched into the market at the Conexpo equipment show in Las Vegas in 1987.
Look out for more trips down memory lane here on the Digger Blog over the coming months.