While working on the upcoming yearbook of the National Federation of Demolition Contractors (NFDC), this update from Case caught my eye so thought I would share it with you.

You may recall that Case first showed us the new C Series crawler excavators at last year's Intermat show in Paris. SER has put its new machines to work clearing the remains of on old factory, which is being redeveloped.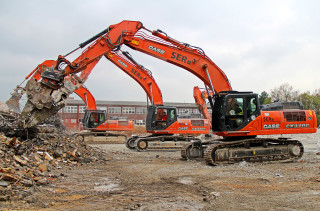 The contract is divided into two sections, in which a total of 20 buildings with an enclosed space of some 200,000m3 had to be demolished. Site manager Willi Braun is in charge of shifting 46,000 tonnes of building rubble and 20,000m3 of excavated earth.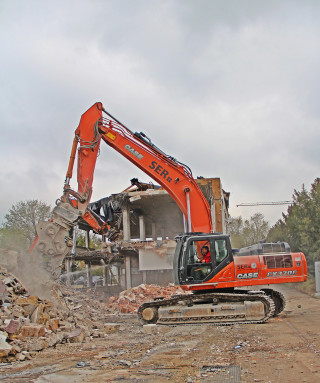 To meet a tight schedule, SER opted for the 48-tonne Case CX470B crawler excavators with 362hp engine power, and three 37-tonne CX370C excavators – each with a capacity of 266hp.
There is also a B Series crawler excavator and a Case wheeled excavator with a sorting grab on site. Before being dispatched, the new machines were fitted with the Case demolition package, ROPS/FOPS safety guard and complete supplementary piping to operate hammers, grabs and shears. The equipment package also included Oilquick quick couplers, superstructure protective panels and bumper guards.