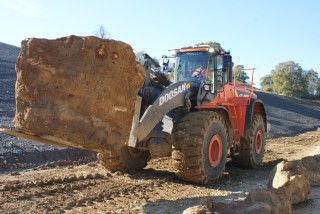 The DL580-5 carries huge 14-16 tonne blocks of Ironstone from the quarry face to a new £1m stone processing plant that has recently gone into operation at the top of the quarry.
Equipped with specially matched pallet tines, the DL580-5 brings the large blocks from the base of the quarry to the top and along a short road, at the end of which it loads them on to the sawing machines in the processing plant. Previously, the quarry was only able to move blocks weighing up to a maximum of 10 tonne, so the arrival of the DL580-5 has made this a much more efficient process.
Great Tew Ironstone has a striking brown and blue vein and is only available from this Oxfordshire quarry. The quarried block can weight up to 30 tonnes, which opens up a wide variety of uses, including building and walling stone, architectural details, mullion windows, copings, quoins and flooring. Smaller quarried block is suitable for rockery stone and one-off garden features. The quarry lies on the historic Great Tew Estate, which always quarried block for its own use. The quarry was opened further in 2000 to meet wider demand for this unique product.
Great Tew is part of Johnston Quarry Group, the largest supplier of quarried and mined block stone in southern England. As well as Great Tew, Johnston owns and operates Sarsden Quarry in Oxfordshire, Creeton Quarry and Ropsley Quarry both in Lincolnshire and Oathill Quarry in Gloucestershire. It also runs three Bath stone mines. The group supplies more than 60,000 tonne of stone block and 300,000 tonne of aggregates per year.

Operations director Paul Keyte, responsible for overseeing the Great Tew, Sarsden and Oathill sites, said: "We are delighted with the boost in productivity provided by the new DL580-5 and the processing plant, which allows us to process up to 100 tonnes of stone a day. The arrival of the DL580-5 and the opening of the new plant are both timely and are enabling us to meet a significant increase in demand for our Ironstone products in the UK."
The DL580-5 has robust structural components and an advanced double circuit axle cooling system to cope with heavier work. The overall size of the DL580-5 is almost the same as the DL550-5, the next model down in the Doosan range, but it has an operating weight of 36,030 kg and higher static tipping loads (straight/full turn 40°) of 29,700 and 26,200 kg, respectively.
The Great Tew DL580-5 was supplied by Doosan dealer Filtermech Plant Sales, based in Wakefield, along with another DL580-5 supplied last year to Creeton Quarry.
Filtermech provides back-up for the DL580-5 along with the other Doosan wheel loaders, crawler excavators and articulated dump trucks at Creeton but the Doosan machines at Great Tew are supported by Murley Construction, another Doosan dealer, based more locally at Stourport-on-Severn.