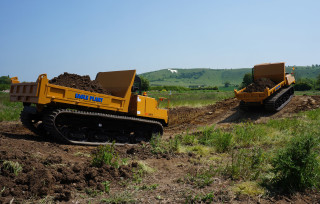 Commenting on the order, Eagle Plant director Alan Cradock said: "I first saw a Morooka machine at a trade show back in 2001 and I could immediately see the potential for a dumper that could pretty much go anywhere and leave the ground in a condition requiring little, if no reinstatement work."

Mr. Cradock has since been proved correct because customer interest in the company's initial purchase has resulted in an expansion of its Morooka fleet to meet a steadily increasing demand, with the latest machines now taking the total fleet to 30 units.
The new dumpers cover payloads ranging from 3 to 11 tonne including four MST800VD models supplied with bodies having three opening sides in order to provide greater operational flexibility and hence an ability to suit the demands of many different applications. These 4.3 tonne capacity machines are powered by Cat Tier 3b engines developing 84.5 kW (115 ps) @ 2200 rpm.
The company is now also making the tracked dumpers available from a new branch recently established at Bury in Lancashire.