JCB say the new machinery will provide an additional 20% production capacity for hydraulic rams – the steel cylinders which are integral to JCB's products and which, through hydraulic power, act as the machine's 'muscles' when lifting, loading and excavating.
One of the biggest single investments is in £4 million worth of machine tools in the Hydraulic business unit at the world HQ in Rocester. The new equipment, which will be fully operational in April, tools include CNC lathes, friction welders, Robotic welding cells and an automated assembly cell.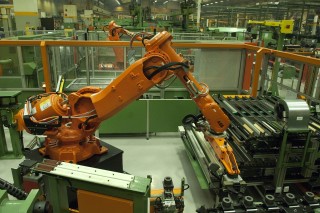 Other investments at the JCB HQ include a new machining centre in the Backhoe Loader Business Unit and a new machining centre and Robot welder in the Loadall Business Unit. At JCB Heavy Products in Uttoxeter more than £1 million has been invested in robot welding equipment to increase capacity and enhance quality at the tracked and wheeled excavator factory.

At JCB Transmissions in Wrexham, a new £2 million fully-automated axle manufacturing unit capable of producing a maximum of 130 axles a day, has just been commissioned.
JCB CEO Alan Blake said: "JCB has ambitious plans to grow its business and investing heavily in our manufacturing capability to increase capacity and enhance quality is key to meeting our expansion goals."