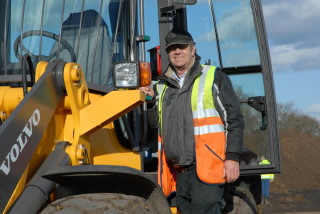 Bernard established his company back in 1963, securing a contract loading lorries with grit in the hard winter of that year, and buying a new tractor with the proceeds. His company continues to serve the local Essex highways authorities to this day.
These days BG Appleton Contracts Ltd, based near Maldon, also screens soils, has a concrete crushing division and has developed an interest in green waste recycling.
Bernard has just recently bought a new Volvo L50G loading shovel.
"Traditionally we've operated an alternative make of machine although we knew Volvo stood for quality and commanded good residual values," he says. "We had the chance at our first Volvo a couple of years back when we purchased a second hand L25B compact loader from a local plant dealer. The machine had been left in an overgrown corner of their yard for something like six months, but it started first time and hasn't been any trouble since."

He was so impressed with his new machine that last year he bought an L25F compact loader from Volvo's utility dealer for the area Capital Plant Solutions and just recently an L50G from Volvo. The L50G replaces a larger competitive machine but Bernard reckons it is more suited to the application on his site handling and recycling green waste.
"The machine is far more manoeuvrable and on average it's only burning 4.2 litres of fuel an hour as opposed to the previous machine which was consuming three times as much," he says.
The main task for the L50G is rehandling and recycling up to 30,000 tonnes of green waste a year and loading screens and lorries. But BG Appleton Contracts also has contracts with the local authorities for snow clearance and road maintenance. So on occasions the fork tines and top clamp are taken off and replaced with a bucket. The Volvo hydraulic attachment bracket facilitates the easy change-over of attachments .
Similarly the L25F can usually be found keeping the Maldon site tidy but is also used on road cleaning contracts together with a Holms hydraulic sweeper.