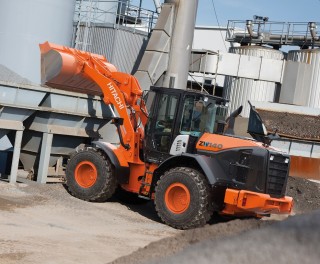 Hitachi Construction Machinery Europe (HCME) has introduced the ZW140-5 and ZW150-5.
Like the older models introduced five years ago, they have hydrostatic transmission but whereas the old machines were 96kW and 107kW respectively, the new models both have a 5.2-litre four-cylinder water-cooled turbo engine rated at 113kW and use less fuel, Hitachi says.
Auto engine shutdown when idling is not yet standard fitment here, but it is available as an optional extra.
Vasilis Drougkas, HCME's wheeled loader product apecialist, says: "The ZW-5 wheel loaders are ideal for working on a variety of job sites. Reliable and fuel efficient, they are easy to maintain and comfortable to operate. We believe the ZW140-5 and ZW150-5 will prove popular among customers in Europe, and will be particularly appealing for rental companies."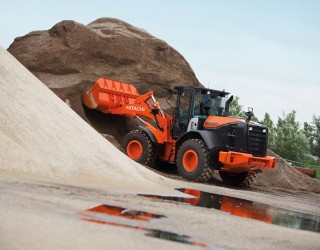 Specifications
ZW140-5
Engine rated power: 113kW
Operating weight: 11,090-11,390kg
Bucket capacity: 1.5-2.1m³
Breakout force: 94.8kN
Equipped with 2m³ general purpose bucket with weld-on adaptor and teeth
ZW150-5
Engine rated power: 113kW
Operating weight: 11,850-12,400kg
Bucket capacity: 1.9-2.3m³
Breakout force: 101.3kN
Equipped with 2.2m³ general purpose bucket with weld-on adaptor and teeth