My partner had secured a new position at a well known agricultural college in Cornwall, so sadly it was time to leave Northampton and James King Plant for the big move down to the South West.
As I mentioned in part 5, the West Country is a tough place to find work and to earn a decent living, there seems to be an almost ingrained reluctance to pay a good rate of pay down here. That is one of the reasons that my late father, who was West Country born and bred, moved to Southampton in his youth for better job and pay prospects.
I also found in some cases, that if you weren't a "local" man, you would find it difficult to get a start. Eventually I did find a job with a local contractor, which only lasted about 4 weeks. During that time I drove 4 different machines and it soon became apparent that I was being used as a holiday relief driver. I still recall the chap saying "don't go on for anyone else boy, because I shall want you back!" That was 13 years ago and I am still waiting for the call!
I then found a job operating a Fiat-Hitachi FH150 for North Cornwall based M. Hirst Contractors and went out on hire on the development of a new Safeway superstore in Plymouth. I was excavating footings in hard rock behind an FH200 fitted with a rock breaker.
After a while I decided that it was a hopeless case trying to work down here and made the decision to go back to my home city of Southampton for work, living away during the week and coming home at weekends.
It had been a long time wish of mine to run my own machine and I figured if I was going to work away, then I might as well be out on hire with my own digger.
As a new start up, it was difficult to get a machine financed. I was literally starting from scratch, with no gifts of finance, but I got there in the end when I took delivery of a second hand low houred Fiat-Hitachi FH130-3. The whole experience was a steep learning curve and it soon became apparent that you had to take things people say to you with a large pinch of salt.
The chap who sold me this machine told me that it was coming from Holland where they really look after their machines, but it was obvious that this was in fact an ex H.E. Services machine, because it was fitted with their own Masterhitch style quick coupler and in certain light you could still see the outline of the old sign writing on the machine!
Nothing wrong with ex H.E. Services machines of course, but I just wished I had been told the truth in the first place. It proved to be a decent machine but being fitted with the Iveco engine it did suffer from fuel problems, which were a common fault with that model.
I was lucky to get regular hire work with top firm Graceland's Civil Engineering, whom I had worked for on many occasions previously.
After a year I chopped in the FH130-3 for a new Hyundai Robex 130LC-3, this was a very fast machine and it served me well as an owner operator who would treat it with care, sadly this was not to be the case when other drivers started operating it for me.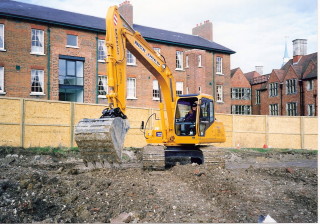 At this point things were going well, the money was coming in and Graceland's were always excellent at paying on time and giving me a good supply of work.
I was getting ambitious and wanted to add more machines to my business and soon decided to buy an additional Hitachi EX120-5, which was a Japanese import machine.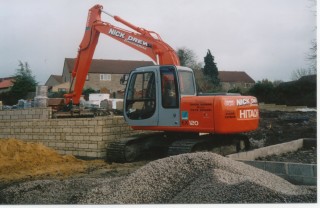 I went to work on the Hitachi and tried to find an operator for the Hyundai; that was one of my biggest headaches - I found they were either really nice chaps who couldn't operate the machine to the required standard, or chaps who were good machine drivers but had no loyalty towards an employer whatsoever and would leave you at the drop of a hat for 25p an hour extra somewhere else!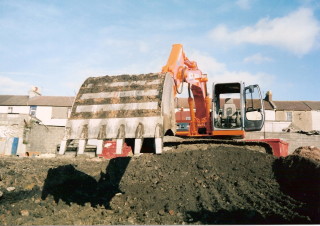 In the end due to my lack of finding suitable and reliable operators, I lost the hire for the second machine. The machine was stood up for some time, but in the end I found hire for it in Taunton with a company from Weston Super Mare, that I knew nothing about.
The company I was told, were notoriously slow payers but I was assured I would get my money, the machine was on hire for many months and being too much of a nice guy I let it go on too long; then one morning I got the dreaded phone call to tell me they had gone bust and that I would probably not get a penny, a scenario that sadly is all too familiar in our industry.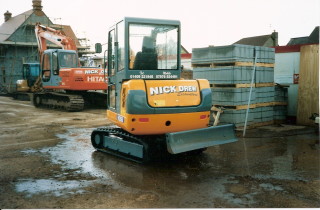 By now the business was nearly 3 years old and I had added a mini digger and 6 ton dumper to the portfolio - but this big cash hit was ultimately the nail in the coffin for me and in 2001 I was dragged under too.
Life goes on though and many lessons were learnt from that stressful period. The old adage that there are no friends in business and that you can't trust anyone 100% is so true.
In the next instalment.. despite being devastated by the loss of my business, read how the phoenix rose from the ashes...