As if to rub salt in the wound, the company that had sent me under, were back up and running again using a different name within 3 weeks; sadly an all too familiar scenario in our industry, but I had to move on and try to get some money back in again. Fortunately my good relationship with Graceland's Civil Engineering held me in good stead, and they immediately offered me a job operating one of their machines back up in the Hampshire area.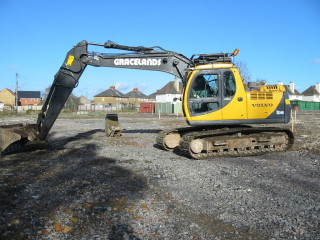 I had ploughed all my personal money into trying to keep my business afloat towards the end, as the weeks went by without payment, so I needed to find a way to make more money fast. To do this I made a return to the rail industry with Hydrex, operating road-railers at the weekends and during bank holidays, something I had done in the past with Fareham based H.T. Hughes. At the time there was good money to be made on the rails, but if I am honest I hated every minute of it. When you have worked in the house building, earthworks and civil engineering sector all your working life, being thrown into the alien rail environment is totally different.
Working long 12 hour shifts mainly at night can be very taxing. Quite why they insisted on working such long hours was something that always amazed me for an industry that has to be very safety focused, but nevertheless I got on with it and continued to do so for a further three years. During that time I had some very interesting and challenging jobs, including many shifts on the famous Tamar Bridge which was built by Brunel and links Devon and Cornwall, including one year when we worked on it during Christmas and Boxing day.
Of course during the week I was working away back up in Hampshire on civils work, then heading home to Devon on a Friday night, spending Saturdays with my partner before heading out on the rail jobs on the Saturday night! Needless to say this all became too much in the end, so I decided to try to find some more work in the West Country.
I got a weekday start with a company called M.J.T Contractors, operating a Daewoo 130LC Solar, working primarily on sites in and around the Exeter area.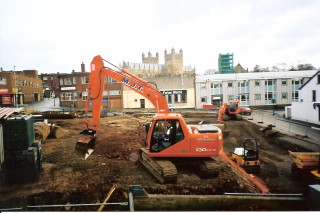 I spent a good year and a half with them but never really fitted in with the lads and it soon became clear it would be best to move on. It's just one of those things that happen in our game - you can't please everyone all the time.
I then decided to put all my eggs in one basket and go full time with Hydrex, working out of the London depot, where a former colleague of mine was working at the time as depot manager, I was put back on hire to Gracelands Civil Engineering on a site in Andover operating a Hitachi EX135.
It was a good hire and I was happy to be back with Gracelands and with the gang of lads who all worked well together, but I had slipped back into the working away scenario once more which is not much fun at all. Around that time my partner and I were buying a small house for ourselves back in Devon. When we eventually moved in on what was still a working site, I used to have the "crack" with a sub-contractor called Matthew Troup, who was working on the Barratt development for large South West player Steve Hoskins Construction. Matthew told me he was thinking of buying a 12-13 ton class 360 degree excavator and wondered if I would like to operate it for him.
With the Persimmon homes site where he would be heading next being a short walk away from where we were living, I jumped at the chance. Matthew Troup had always been a Cat fan and was already running a 438C backhoe loader, so it was somewhat inevitable that he would choose a hydraulic excavator from the Caterpillar stable, local Finning's sales representative Steve Benneto sourced Matt a nice low houred and well looked after Cat 312B.

I worked on the site with Matt for a few months, but was then contacted by someone who advised me of a new site that was about to start in Plymouth. The Azure project was a prestige development of apartments complete with underground car parking on the historic Hoe area in Plymouth and groundworks and construction was being undertaken by London based Ardmore Group. I was offered a great rate and started the following week operating a Komatsu PC210-7 which was owned by the companies in house plant division, BCL Plant Ltd.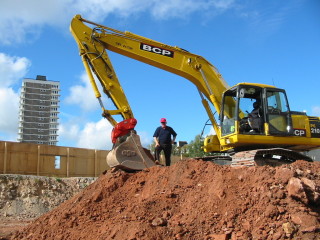 It was a good job and I developed a great working relationship with two Irish lads who were running the site, Pascal Gannon and Pat Fleming, both of whom sadly left the job midway through development to take jobs back home in Ireland. They offered me the chance to go and work with them in Ireland too but at the time I had no desire to go travelling once more.
During my time on this site I also spent some time operating a brand new Komatsu PC450-7 which had been brought in with a Furukawa hammer to deal with the extremely hard rock during excavation of the underground car park, which was an awesome machine, but often found to be a little bit too big in such a confined area.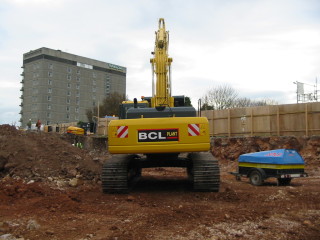 When both tracked machines went back to London, I finished off the site with this PW170-6ES. The machine proved invaluable with its high mobility around the site and congested streets which surrounded the development.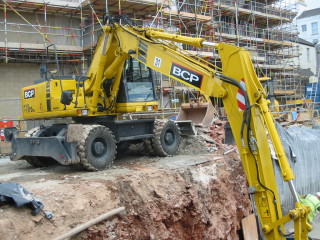 The major groundworks side of the job came to an end around September 2005 and at the time the company had no other work in the area, so I had to look for the next "seat" once more. Not having that many contacts in the South West at the time I headed back to the firm I worked for in Northampton in 1996-7 James King Plant and a new job they had just started in Cambridge which I will write about in Part 8.