The King boys were about to start another contract on a site somewhere in Cambridge, the name of which evades me now, but I think it was somewhere close to junction 32 of the A14. I was offered the seat on one of their spare machines, which comes out of retirement when things get busy. I remember them buying this Caterpillar 215DLC second hand from Germany during my first spell with the company in 96-97. Like most of the 200 series Cat machines, she was a good solid and reliable piece of kit and can still put a good day's work in to this day.
The main contractor on site was , and the job involved some road widening and infrastructure works, for what I believe was going to be another business park style development. One of my jobs on site was to follow behind the King's 36 ton Halla HE360LCH-II, machine which was carving out the bank adjacent to the A14. Using suitable fill and inter-woven geo-grid materials, we were tasked with filling in behind the mesh to form the base of the new slip road.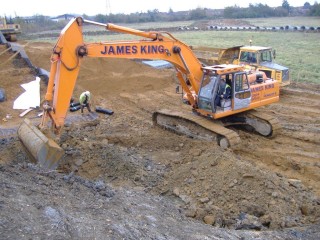 It was an interesting and challenging job, as we had to keep building up the stockpile of material that my machine was sitting on as we progressed higher with the in-fill operation, once the team had got to grips with the procedure we were flying along every day, however it was a very time consuming job and we were at it for a number of weeks as I recall.
Further on ahead of us, James King's fairly new at the time, Volvo EC240BLC excavator was involved in stripping topsoil from the bank prior to our part of the operation.

On another part of the site, the King's Caterpillar D6M LGP dozer was levelling surplus excavated materials in a cut and fill operation, with materials being distributed by the company's Volvo A25C and Terex TA30 articulated dumptrucks.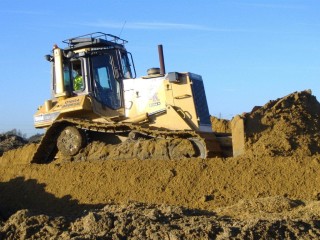 The King's are still big users of track shovels and initially they had a hired in Cat 953C on site from Gambles.
This machine was on hire until the company's brand new Cat 963C was delivered to site. This impressive 158hp machine could certainly shift some dirt with its 3.2 cubic yard bucket and high speed operation!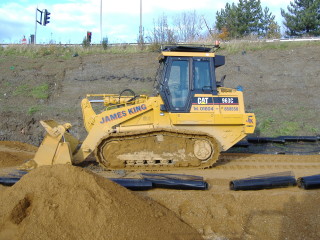 The job was rapidly coming to an end and the long days and nights away from home were taking their toll on me once more; so an opportunity arose to go back to a site in the South West on the A30 improvement works, which from my point of view was only supposed to be for 2 weeks, but I ended up working there for over 7 months, which I will tell you about in part 9 of my life in plant story.