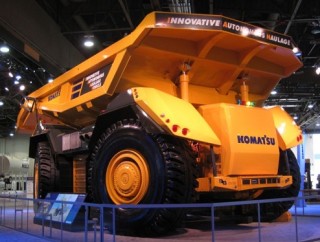 This machine was unveiled at the Minexpo trade show in Las Vegas, 26th-28 September 2016.
Unlike the 930E and 830E autonomous models, this newly developed vehicle has no operator's cab – there is no option but to ditch the operator. Komatsu says it is 'designed to maximize the advantages of unmanned operation'.
Rather non-specifically, Komatsu says that it will be launched onto the market 'in the near future'.
Komatsu says that by distributing equal load to the four wheels both when the vehicle is loaded and unloaded, and adopting four-wheel drive, retarder and steering, it is aiming for high-performance shuttling of this vehicle in both forward and reverse travel directions, thereby totally eliminating the need for K-turns at loading and unloading sites.
Since Komatsu introduced its Autonomous Haulage System (AHS) in 2008, AHS dump trucks have hauled more than a billion tonnes of overburden and minerals at big mines, mainly in Chile and Australia.

This new vehicle has a nominal gross vehicle weight of 416 tonnes and a nominal payload of 230 tonnes. Gross power output is 2014 kW (2700HP) and maximum speed is 64 km/h.
It is 15 metres long, 8.5 metres wide and has a 15.9-metre turning circle. Tyres are 59/80R63.
Here's some video animation: