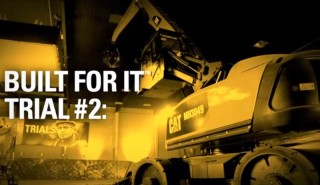 To see whether the B15 smartphone had "earned the right to sport the Cat logo" they dropped it from a great height into water and then drove a four-tonne Cat 277D multi terrain loader over them.
Did they survive? You'll never guess…
Oh all right, you probably will, but you can see the full test in the video below.
There are 600 of the phones making up that roadway, which carry a retail value of more than US$ 217,000.

Once again, they've made a 'making of' video showing behind the scenes for that full DVD Extras experience.
And if you missed the Giant Jenga video, or want to see it again, click here to see my previous post.