O&K's history goes back to 1876, when Benno Orenstien and Arthur Koppel established the company to manufacture narrow gauge railway tracks, wagons and locomotives in Berlin. The company was dissolved in 1885, but over time the two separate businesses were re-established as one. Following some major takeovers of smaller companies in 1911, the company expanded rapidly under the elongated name of Orenstein and Koppel and Lubecker Maschinenbau AG, until in 1970 the company became O&K AG. The company produced its first steam shovel in 1908 and went on to produce many different models of rope controlled excavators. It wasn't until 1961 that O&K's first hydraulic excavator, the RH5 made its appearance, and one of these early models is still displayed at the Dortmund factory, where O&K's legacy continues to this day, all be it under a different name.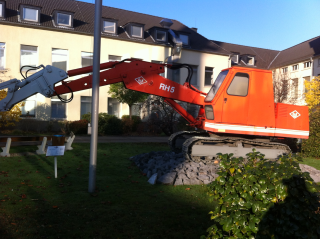 The famous RH5 continued in production until 1966 and was replaced with the RH4 model in the same year. In 1967 five new models were introduced, including the RH15, which is seen here in face shovel version loading a dumptruck.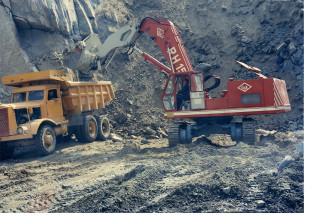 The RH15 was later joined in the range by the RH25, and in this shot from my collection we can see a fine face shovel example loading a Faun rigid dumptruck on an autobahn job in Germany. One thing I have noticed in these two photo's is that they appear to be running these machines with the bonnet open, would this be to get more air flow for the Deutz air cooled engines perhaps? Hopefully readers with the knowledge will let me know the reason for this.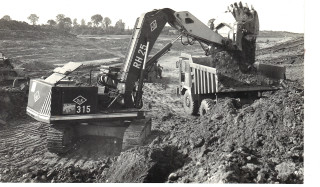 O&K were keen to get into the heavy mining sector and indeed in the company's later years, it was the large kit that they became more famous for. Their first large entry into the mining market was in 1971, just ten years after O&K had launched their first hydraulic excavator, when they launched the 124 ton RH60, which had a face shovel bucket capacity of 8.5 cubic yards. I was 10 years old when this machine was launched, and I can vividly remember having a promotional poster of it on my bedroom wall! Of course at the time this was classed as a massive hydraulic excavator, powered by two Deuzt diesel engines, giving the machine a total power output of 760hp. This model remained in production until 1976 when it was superseded by the RH75. The example in this photo is not sporting the familiar O&K red and white colours, but was supplied in the customer's colours, which is a very popular thing to do in central Europe to this day.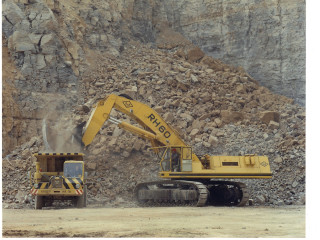 The 2,419hp RH200, which had a bucket capacity of 34 cubic yards, was launched in 1989 and a number of these units made their way into the UK opencast coal market, most notably working for R.J.Budge as seen in this photo, and later for UK Coal. There is currently only one left working in the UK at Shotton for Banks, with the previous one now working in a gold mine in Mexico.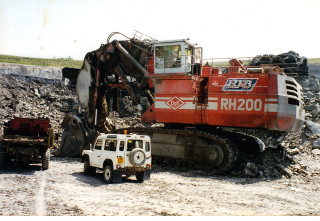 In 1997 O&K set the benchmark for large mining sized hydraulic excavators, with the introduction of the 800 ton RH400, which these days weigh in at around 1000 tons, and offer an impressive bucket capacity of 57 cubic yards. Powered by dual Cummins engines, the machine has a total power output of 3,350hp! This photo shows the first production model to go into service at the Syncrude tar sands operation in Alberta, Canada.
This photo shows the very last O&K RH200 in the UK still working at the Shotton opencast coal mine in Cramlington, Northumberland.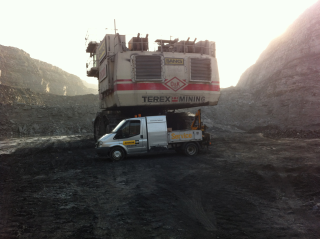 Thanks must go to our friend Scott Girvan of Finning's for this photo, and the RH5 shot and for assistance in compilation of this post.