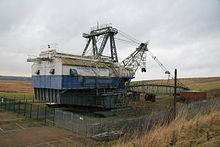 On Saturday 14th June the Friends of St. Aidan's BE1150 Dragline are holding one of their periodic open days. The 1200-ton machine is at St Aidan's opencast coal site in Swillington, Leeds LS26 8AL.
All are welcome to go along and sit in the driver's seat of the American-made giant and to check out the 25 cubic yard bucket.
Known as 'Oddball', it was built in 1948 by Bucyrus Erie in Milwaukee, Wisconsin and shipped to the UK four years later as a second-hand machine. It came to Leeds in 1972 where it was in use until 1983. It was restored in 1999 and stands now as merely a monument to one aspect of Yorkshire's rich industrial heritage.
Admission is free and Oddball is open between 2pm and 4pm.
There's a good video that I came across on Youtube here that gives a taster.