Like so many of us old stalwarts in the plant game, Ollie Kitchen has been involved in the industry from an early age. It all started about 29 years ago when he was 7 years old, and used to accompany his father to work. Mr Kitchen senior was a builder and he used to put Ollie in the cab with the digger driver for the day, a familiar scenario to many of us, and an experience that proved invaluable to Ollie as he sat, watched, and learned, not only how to operate the machine, but also how to approach the many different tasks that confront operators on a daily basis.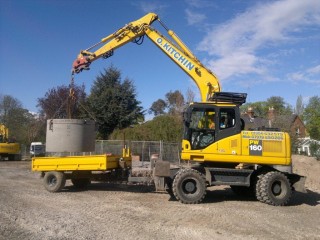 At the age of 13, Ollie got to spend time on a JCB 3CII on a site where a local contractor was putting up some farm buildings. Ollie asked the driver, who was a real old school operator, if he could "have a go" and he duly set the machine up in the field and let Ollie loose in it. From that day on, Ollie's summer holidays were taken care of! Ollie went on to operate a wide variety of machines including Hymac's and International B100 Drotts. Leaving school at 17 with no academic qualifications, Ollie got a start with local contractor Wrights of Crockey Hill, operating a Cat D4 pulling a sub-soiler around local farms and building lagoons for them. After that he worked in a quarry for 3-4 years gaining further experience on different aspects of the industry.
To cut a long story short, Ollie went on to work for another of contractor, operating a JCB 3CX, Komatsu PC130 and then a Caterpillar 318M rubber duck which he enjoyed immensely. Then the opportunity of a seat in a Komatsu PX65-12 dozer came up which Ollie grabbed with open arms. Like many of us Ollie had a long term hankering to have a go on his own, so he contacted his boss about buying his own dozer and setting up on his own. His boss offered some sound advice saying that Ollie would need at least 4-5 good customers to keep a dozer in work and that maybe he should think about buying a tracked 360 degree excavator or maybe even a "duck". Whilst pondering the idea, Ollie thought that so many people in the area had tracked machines and there were very few ducks, maybe it would be a good idea to go for a wheeled excavator.
Ollie's first big job was on hire to Tarmac for a month on the M62, Tarmac were contracting for Balfour Beatty who then provided Ollie with a further 3 months hire after that. Ollie got off-hired from Balfour's on a Sunday evening, but as it happened, Alfred McAlpines had a site just 5 miles down the road and Ollie gained a new hire with them and started on the Monday morning. He remained with them for the next 2 years, before going back to work with Balfour Beatty on the A1 works in Weatherby for a further year. Sadly around this time Ollie was involved in an accident whilst snow boarding with one of the engineers, he suffered a nasty fall and broke his neck which put him out of the game for nearly 2 years, but I am pleased to report that all is well now and as Ollie says "you just have to pick up from where you left off".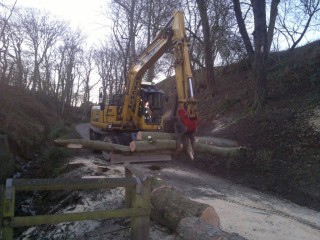 These days, Ollie has a large client base in the York area and within a 40 mile radius of his yard. And he has become a bit of a one stop shop with his machine and its large arsenal of attachments which include, block grab, pallet forks, crushing bucket, clamshell muck grab, flail mower, breaker, and compactor plate, which arrive on site on a trailer that Ollie tows behind his Komatsu PW160. Ollie describes arriving on site with all his equipment as one of those jaw dropping moments for the customer, when they get first glimpse of all his kit they suddenly realise just how much more they are going to be able to get done with just one man, his machine and all the various attachments. It really is a win, win, situation for all concerned, as the customer no longer has to hire in additional machines, which in turn saves him money, and Ollie gets to stay on hire much longer and often right through to the completion of the job.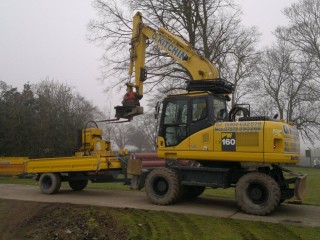 I would say that Ollie Kitchen has the same approach to working as our Scandinavian friends have in Sweden. Where more attachments, that cut down on the need for additional machines and intensive labour are definitely the way forward. Ollie recently visited Sweden himself on the day I returned home from there I believe, and was able to witness this for himself, with a series of site visits and tour around the MaskinExpo show.
Ollie said, "I am going to add an Engcon tiltrotator to my machine because as I see it, it's clearly a no brainer, they are quite simply fantastic bits of kit! I would of bought one a couple of years ago but a job came along that required a concrete crusher so thats what I had to go with at the time" Ollie continued "I am going for the latest EC219 model which when fitted to my machine will be the first one in the country, it was so embarrassing when we were in Sweden and they were asking us how do we get on in the UK with just rigid buckets" I have to agree Ollie, I felt the same way too!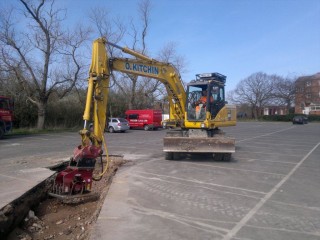 In the same way as I reported following the Digger Blogs visit to Sweden, both Ollie and long term tiltrotator user Eddie Warrener never saw any machines without a tiltrotator on during their time out there, with the first one they saw being fitted to a 30 ton Volvo excavator. Ollie's trailer concept is a well proven idea in Sweden too, and Ollie even witnessed 9 ton rubber ducks pulling twin axle trailers with consummate ease.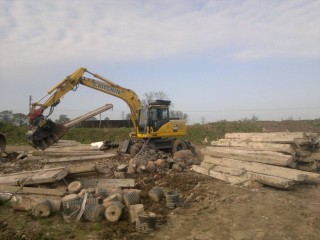 Commenting on his Swedish experience Ollie said "I think the Swedish are far more advanced than us in the way they work, probably some 7 to 8 years ahead of us, but I think people are starting to come around to the idea of tiltrotators and attachments in general. It would help if they could only see the bigger picture rather than focusing on the short term and the initial set up costs"
It's pretty obvious to me that when Ollie gets his tiltrotator fitted he is going to have one hell of a machine on his hands, and I look forward to covering this in a future blog post.