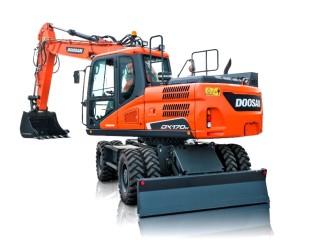 The new DX170W-5 has 10% more engine power, 5% more engine torque and 5% more traction force compared to the previous generation model, Doosan tells us. The swing speed can now reach 10.8 rpm/minute and swing torque has been increased by 4%. Main pump capacity has increased by 9% and – thanks to the increased pressure in the new Negacon hydraulic system – there is a significant increase of 10% in the bucket force and 3% in the arm force.
It also has the new 'CabSus' cab suspension system, which reduces vibration by 20% and a cab noise by 4dBA, the brochure says.
Like all Doosan Stage IV excavators above 14 tonnes, the DX170W-5 comes factory-installed with the new CoreTMS wireless fleet monitoring system.
The Intermat 2015 exhibition takes place in Paris from 20-25 April 2015.
Doosan will also be showing its new 36-tonne DX340LC-5 and 40-tonne DX380LC-5 crawler excavators, picture below. You may remember that three years ago Intermat 2012 was the scene for Doosan to launch its Stage IIIB compliant Dash-3 crawler excavators and wheeled loaders. With a constant tightening of the European emissions regulations, it's a short shelf life these machines have these days!