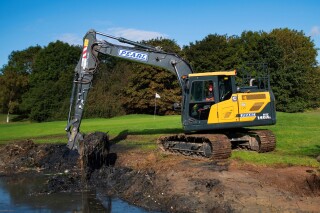 Civil engineering and drainage expert Hugh Pearl reports many years of reliable service from its Hyundai 140LC crawler excavators so saw little reason to switch brands.
Having taken delivery of two HX140AL excavators over the last 12 months, the Hugh Pearl team is putting these excavators to use on a variety of projects, from path digging and pond drainage through to larger civil projects, including car parks, cemeteries and sports fields.
Contracts director Adrian Rowell explains: "We have been fans of the Hyundai machines for a while, we've always enjoyed operating them and found them to be great quality and good value for money. So when the time came to look at replacing our old Hyundais, it made perfect sense to look at the next generation machines and put those to the test.

"We were impressed with how these new Hyundai excavators have evolved in the latest generation and, so far, we're finding them to be more comfortable and even more powerful than their predecessors."
He continues: "Our operators only have good things to say about them. The cameras, in particular, have had a really positive response. They make our guys feel more confident when they're working on a busy and complex site.
"From a maintenance perspective, we're really impressed with the huge strides Hyundai has made. It's easier to get in and out of the machines and to access the areas that need adjusting and the service we receive from our Hyundai dealer, Ernest Doe, is second to none. We've seen the evolution of Hyundai over time and this new generation of machines gives us everything we come to expect from Hyundai and more."