Based on the comments below and data shared with us by Plantworx, a 2015 show is looking very positive indeed.
Plantworx visitor analysis - Registrations by UK regions.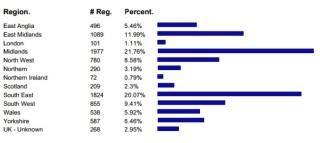 Jason Howlett, director of Caterpillar distributor Finning, which had one of the larger stands at this years show, said: "Finning has enjoyed a truly successful Plantworx 2013, with sales successes for all Cat partners at the stand. This includes deals completed for used and new equipment, power systems, product support and our compact dealerships. For the first show of its kind we are encouraged by the profile of visitors and exhibitors alike, showing an increased confidence in the market."
The final "total attendance" figure was 11,692. With 9,445 "visitors" of which, 60% of these had pre-registered to attend the show. (If only the sun and made it to the show, on days 1 and 2!) Twitter is still awash with "#Plantworx" pictures and comments. While some openly share there "Plantworx blues".. For me, it's does feel a little like the World Cup.. takes just forever to finally arrive and then.. its finished..
Plantworx closed its upbeat email with "We are conducting market research with visitors from all 3 days - we will advise on visitor feedback at the end of the summer combined with plans for 2015."

So I guess we should watch this space...
Plantworx visitor analysis - How would you describe your company/organisation?
Products or services in which Plantworx visitors were interested