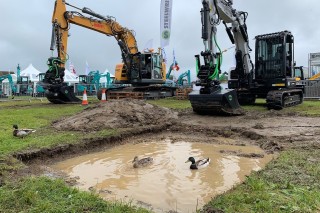 It was great weather for ducks at the East of England Showground in Peterborough for Plantworx 2019, 11th-13th June, and also for digging up nicely softened ground. It wasn't quite so great for wandering around chatting to old friends, making new ones and see the latest offerings from construction equipment suppliers. However, most seemed hardy enough to withstand it all with good grace.
And the second day was much better than the first, as you can see by this highlights video:
Nonetheless, Plantworx seems destined to become defined by wet weather. This was the fourth wet Plantworx in a row. The organisers have been moved to take soundings on moving the event to September next time in the hope of raising the odds of dry weather. (Maybe they should just move it to Malaga...)
A Twitter poll on changing the month drew 199 responses, of whom 66% backed a move to September and 34% were Remainers for June.
Whenever it is, you can be sure that The Construction Index team will be out in force, as ever.
Here are some more of the sights of Plantworx 2019: