I was not in Verona last week for the 2017 Samoter but I have been sent a couple of postcards that I am happy to share, from Kobelco and from Hyundai.
Kobelco showed off the SK55SRX-6 from its Series 6 mini excavator family. This has Kobelco's Integrated Noise & Dust Reduction Cooling System (iNDr), as seen on many of its larger machines. It is designed to eliminate dust inside the engine compartment and reduce noise.
The two-piece boom that can be fitted to the SK85MSR was also featured. This enables operators to work across a wide operating range while still providing smooth hydraulic operation, high performance and increased fuel efficiency. It is designed for compact jobsites as the adjustable boom gives more digging space within the same area.
For instance, when fitted to a Kobelco SK85MSR, the two-piece boom allows the machine to dig as deep as 4.59 metres and achieve a digging reach of just over eight metres.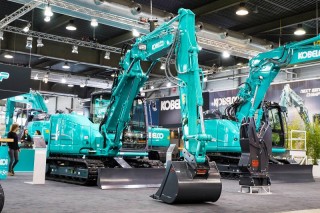 Hyundai was also at Samoter in force, with its new HL975 wheeled loader (below), among other kit. This machine has an operating weight of 26.5 tonnes and its Cummins QSG12 engine offers maximum gross power of 250kW at 2100rpm (net power 247kW).
To go with this engine power comes added ruggedness. Hyundai claims that the durability of the frames and attachments has been enhanced by 50% times compared to the previous generation 9-series.

All Hyundai's HL Series models, including the HL955, the HL960 and the HL980, have automatic shutdown when the engine is idle. Parameters for this can be set by the operator.
There is an optional five-speed transmission with lock-up clutch too, further helping to reduce fuel consumption depending on the working conditions.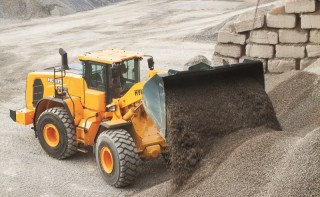 There is also an Eco gauge that changes colour according to engine torque and fuel efficiency.
Other gadgets include an 'infotainment' system with a seven-inch touch-screen monitor. The audio system has an integrated Bluetooth hands-free feature, and a built-in microphone allowing the operator to take and make phone calls when in the cab, or link to his/her smartphone and kick back for some Netflix.
Returning to business, the touchscreen monitor and EH controls allow several new features like 'Soft End Stop', bucket priority and boom bucket detent mode, to be controlled through the touchscreen. The 'Soft End Stop', if selected, slows arm movement when an attachment reaches the end of a stroke to keep movements nice and smooth.