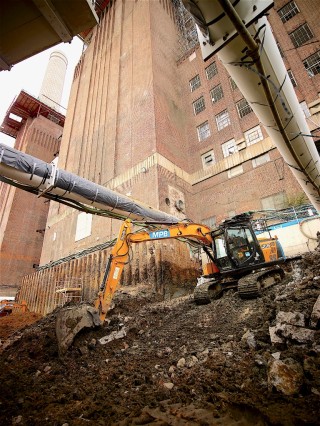 MPB Structures, a concrete frame specialist, bought three JCB JS220LC and two JS130LC models specifically for the contract.
The five new JCB tracked excavators are digging the foundations for new residential, retail and office buildings at the former Battersea Power Station site. They are working adjacent to the existing power station building, digging to a depth of 8.5 metres and removing 56,000 m3 of earth in total. Following the complex excavation process, which includes temporary props to retain earth, MPB Structures will insert pile walls to create the basement area for the new development.
Supplied by dealer Watling JCB, all the excavators were specified with the latest 360-degree camera systems, green beacon seatbelt warning lights, upper structure hand rails and twin-locking hydraulic quickhitches. They have also been supplied with performance-matched new hydraulic breakers from the JCB Contractor hammer range.

MPB Structures director Pat Boyle says: "We are delighted to have these fantastic fully-loaded machines and would like to thank Watling JCB for their great service. We chose them to match the specific emissions and health and safety demands of the Battersea Power Station development and have selected a range of options to ensure the protection of our operators and those on site."
He adds: "The JCB LiveLink telematics system is a major advantage as it enables us to accurately monitor the performance of our machines remotely. Of particular interest is tracking the Ad Blue levels which are currently running at a ratio of less than 5% Ad Blue to diesel."
MPB has also recently purchased a range of 6-, 12- and 14-metre JCB HiViz Loadall telehandlers.