In this classic shot from America which probably dates from around 1918-1920, we see a number of horses being deployed to pull a crude form of dumptruck. Incredibly, the horses are just feet away from what must have been a very noisy Best 60 tractor unit towing some kind of earthmoving machine with a conveyor belt delivery system attached. The horses involved in this kind of work must have been very well trained to work alongside such hectic activity.
Having said that horses do get used to machinery if they are exposed to it on a regular basis. Mrs Digger has horses at home and I am often mobbed by them when working at home with the machine. They seem to lose any fear of the machine with time, as this shot clearly shows!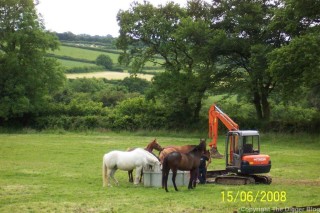 I'm quite happy working amongst horses with the machine, but I would have to draw the line at eating any of our most regal of animals.