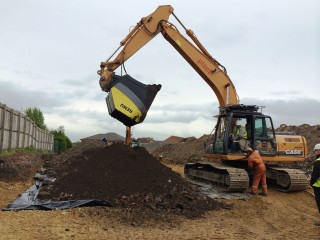 Remada was formed in 2011 as a joint venture between Scientus Consulting and GJP Contract Services to clean up contaminated land. It has a soil treatment facility (STF) near the NEC National Exhibition Centre, offering an alternative to landfill disposal for contaminated soils. It has completed many soil and groundwater remediation projects under both contractor and turnkey appointments.
One of its current projects involves site clearance and soil remediation for a house-builder on a site near Leeds. The land was previously used for a coach and haulage depot and has old diesel fuel tanks both underground and above ground. The previous buildings have been demolished by other contractors down to the slab level. As a result, all relic foundations are in place but need be removed and processed on-site as part of the remediation work.
Remada's scope comprised of ex-situ bioremediation of approximately 1500 cubic metres of impacted soil, grubbing and processing out of relic foundations. All soil on site is being decontaminated and recycled wherever possible for use on site as fill for gardens etc.
Remada is using a Remu EE3160 HD Mix that it has bought for this job from Worsley Plant. The Remu bucket removes larger rock and soil and helps break down the soil more quickly. It is fitted to a 21-tonne Case CX210B excavator.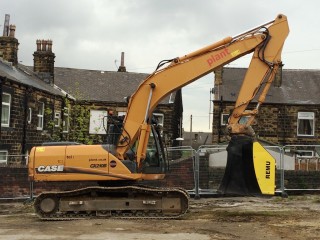 Remada director Gary Price had seen the Remu screening bucket at Demoliton Expo in Solihull last year. After some further homework he spoke to Andrew Purse at Worsley Plant and decided to buy. Gary Price says: "Prior to buying the Remu EE3160, we were using another bucket which comes nowhere near the capabilities, speed and power the Remu offers."