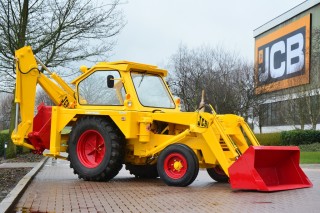 It was found in a dilapidated condition, rotting in a field in Kent
Thanks to the efforts of a JCB product marketing manager Julian Carder (below), it is now as good as new. This is the fifth JCB machine that he has restored over the past five years and he is regularly approached for his expertise with vintage diggers.
"The machine was in a pretty poor state, rusty and leaking oil through lack of care," he says, "so it took about 10 months of evenings and weekends at a friend's workshop to bring it back to life.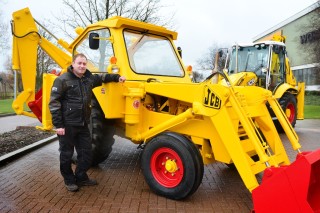 "All in all, we put in about 1,400 hours of restoration. We tried to keep as much of the machine as original as possible but had to replace the metalwork which was rotten and beyond repair. The carcass of the cab is original but totally rebuilt. We even had to get some parts specially made because you can't get them anymore. Every last detail was researched to keep it authentic."
Julian Carder is JCB Worldwide product marketing manager.

He has sold this one to south London-based demolition and haulage contractor George Killoughery Ltd after an approach from its managing director, Joe Killoughery.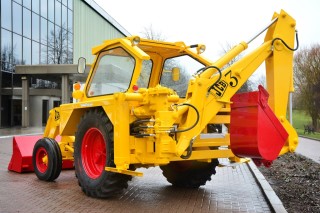 Julian says: "Joe Killoughery had seen a 3C Mark 111 backhoe that I'd previously restored and wanted the same craftsmanship and showroom condition for his machine. His machine looks fabulous and now Killougherys are having one of their oldest operators come over from Ireland to drive it at the parade."
He adds: "I'll be behind it at the wheel of one of our brand new 70th anniversary 3CX backhoes. This re-build really has been a labour of love and I'm proud that I'll have a bird's eye view as the re-born JCB 3 wows the crowds during the parade."
Floats representing all 32 counties of Ireland will make their way through central London for the 13th March Parade.