The purchase of this, their first Volvo, was planned alongside the purchase of a Dymax Tree Shear capable of cutting up to 14" diameter trees to launch Maydencroft Rural into a new development phase for the four year old company. Specialising in the restoration of country estates, Maydencroft Rural needed this new combination to tackle the high volume of work. "The Volvo EC140 is an ideal carrier in terms of its relative compact size to access the areas we work in and has plenty of hydraulic capacity to operate the shear with comparative ease," commented Managing Director Tom Williams. "In addition we've purchased a Geith Universal Grapple to pick and sort the brash after the trees and hedgerows have been cut."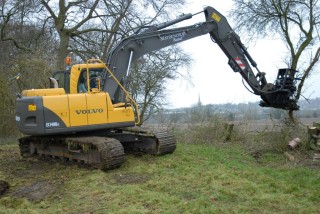 The decision for choosing Volvo for the first time was due mainly to third party recommendation according to Tom Williams. "We run a selection of compact excavators, Unimogs and tractors, so this fourteen tonne excavator is the largest machine in our fleet to date," he said. "I was looking around for a good second hand machine and this one was available at the right time and at the right price from Volvo. In addition, the fact that the machine was already fitted with the hydraulic circuitry we needed for the shear as standard was a real plus."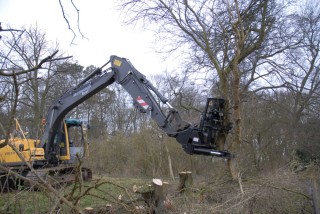 The 2007, relatively low houred machine was supplied through Volvo's used equipment Department at Duxford and underwent some refurbishment before being delivered to Maydencroft Rural. "In this instance we processed the machine through our workshops, refurbishing the cab, superstructure and counterweight," said Volvo's Used Equipment Manager Mark Rhead. "We'll work with our customers to provide a machine suited to their requirements whether it is a basic service and inspection up to a fully refurbished machine covered by our approved used programme" he said.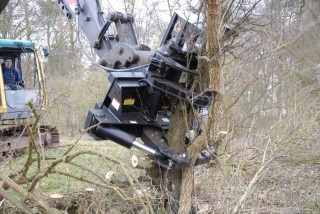 The 14" Dymax tree shear weighs in at 1079kg and operates off the EC140's hammer / shear circuit. With an operating pressure of 210 bar, the shear uses its grapples to steady the tree before literally shearing it in two. The solid cast shearing arms provide superior power for shearing hardwood species. The cutting blades are 19.05mm thick and made from Hardox 400 high tensile steel and can easily be replaced when worn. Once the cut is made the grapples tighten around the trunk so the whole tree can be lifted safely and cast into windrows before being disposed of for recycling.
Based in Hertfordshire, in close proximity to the hub of the motorway network, Maydencroft Rural provides landscape and environmental solutions throughout the UK. Typical contracts include highways projects, major works for large country estates, woodland management and tree surgery for local authorities and utility companies, wetland and river restoration projects and boardwalks are something of a speciality too. The company was founded by Tom Williams in 2007 and now employs over 20 fulltime personnel.