Michael has been a lucky boy since arriving down under, despite having to suffer a few days on the old 25 ton Daewoo's we posted photos of last week. For most of the time, he has been treated to some top class new kit, something that Michael says is all new to him since taking up an operating career just over 5 years ago. This Kobelco SK135SR, featuring the very useful knuckle boom, had only 100 hours on the meter when Michael jumped in it. Also worthy of note in the background of this shot is the Caterpillar 615C elevating scraper, which appears to be fully laden with topsoil.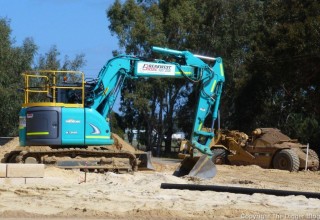 Whilst working for an agency, Michael has had a real baptism of fire in terms of variety of jobs and machines. And in this shot, he is seen at the controls of a machine he would be more familiar with sporting Case colours, back in the UK. This fine example is a 30 ton class Sumitomo SH300, which had just 30 hours on the clock!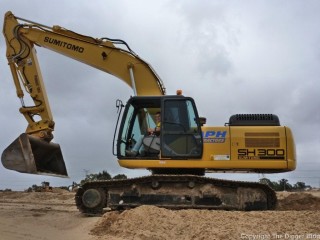 Finally in this batch from Michael, a superb blue sky shot of the ever popular Komatsu PC240NLC-8 with just 100 hours on it. Michael was put to work on this machine trimming batters in the sandy Perth soil.

Michael has been successful in getting a job for the famous Leighton Contractors. He flew out last Wednesday to work on a bulk earthworks contract in one of RioTinto's iron ore mines in the Pilbera region of Western Australia. He will be working on a 4 week on 1 week off basis with his current contract running until Christmas. It must be very exciting stuff for the lad and I for one am quite envious! I am really looking forward to hearing from Michael on his return from the job to hear how he got on. I am confident he will be seeing and playing with kit he could have only dreamt about in the UK.
Good luck to you Michael from the Digger Blog, and please keep us informed on your progress.