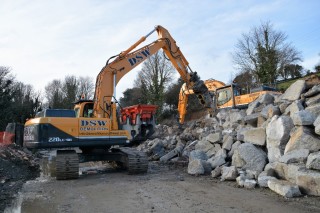 Demolition News reported at the time that closure of DRS had more to do with the failure of owner David Shrigley's marriage to third wife and fellow director Donna Shrigley than to any failings in the business.
A month later David's son Darren Shrigley, steeped in demolition culture, set up Demolition South West Ltd (DSW) to fill the void.
"Pretty soon after the closure of my father's business, I spotted that there was going to be a massive gap in the market down here in the southwest for a demolition firm," Darren says, "and with that in mind in the May of 2015 I formed DSW."
He continues: "In early 2016 we won a contract to demolish the iconic Ponsmere Hotel in Perranporth, Cornwall. This job gave us a great start and involved the removal of asbestos, internally and externally, the complete soft strip of 80 bedrooms, bars and recreational rooms and the salvage of some 2000 m2 of timber floorboards. "
He had all the contacts to get any machinery he needed.
"Of course to tackle this job I needed machinery, so I got in touch with our friends at Molson Group, Jonathon Wilson and his son Tom, who agreed to hire me a 20-tonne Hyundai hydraulic excavator. We hired the Hyundai for 5-6 weeks and I really liked the machine so decided to purchase it rather than hire it any longer as it's dead money hiring for too long.
"To be honest, this job was the catalyst we needed to kick start the fledgling business and we haven't looked back since."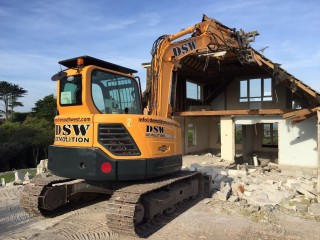 Shortly after the hotel job DRS won a contract to work for Imerys, the French company that owns the former English China Clay extraction business in Cornwall. A period of rapid expansion followed for DSW, enabling the company to invest in more machines.
Darren Shrigley, as managing director, has been joined in the new business by several staff who were at the previous family firm. Nick Southall is still around as contracts manager, for example, and James Loveridge is health & safety manager. Some of the old boys on the ground and on the machines have returned too, but they are also looking to invest in youth.
"We have been lucky to bring in some new lads who are good young operators whom I've known for some time and in return we are putting them through their training to get their tickets. At the end of the day, like everyone else now, we are finding it hard to source good quality experienced operators with so many older guys retiring and taking all that experience with them, so as a company we are really keen to bring on young local talent."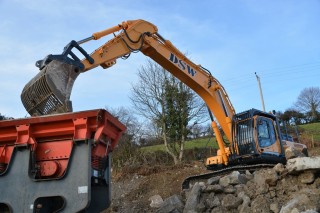 Many of the new lads are coming into the demolition industry from the waste recycling sector so already have good knowledge of separating materials for onward processing. They generally start on the smaller scale demolition projects while the scarier tall buildings are generally taken down by Darren and Nick themselves to a level where the less experienced lads can handle it safely.
With the relationship with Molson, it is perhaps unsurprising that the machine fleet is now dominated by the Hyundai brand. The fleet ranges from a 3-tonne mini excavator up to a recently purchased 40-tonne class 380LC-9A. Eight-, 14- and 21-tonne models complete the fleet line-up. "We do feel that people tend to buy from people," Darren Shrigley says, "and like many others we have built up a good working relationship with Molsons. Our local rep Tom Wilson looks after us very well and we have become good friends. He always offers us some cracking deals so we are very happy with our preferred supplier."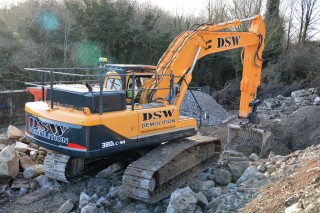 Some of the machines are refurbished second-hand units. The latest addition is the 40-tonner (shown above), which is working on a site in St Austell. The machine was shot blasted and re-painted before delivery, with new side impact skirts added where needed, demolition specification belly guards fitted, FOPS cab guard and full 'fall from height' boxing ring protection added. (DSW is putting boxing rings on all its machines ahead of its application to join the National Federation of Demolition Contractors.)
The Hyundai 380LC-9A has been teamed up with a Sandvik crusher on the site of an old China Clay drying works not far from St Austell. Work here has been ongoing for two years now and initially saw the company taking down old sheds that covered the area. Some asbestos had to be dealt with first – this task was performed by sister company ASW Environmental – and the timber roof was stripped down for recycling. The 380LC-9A and a 220LC-9A (shown at the top of your screen here) are now engaged in dismantling some heavy duty concrete structures which will be fed through the crusher for re-use as hardcore. The whole area where this clay drying facility once stood will eventually be put back to farming land, which will require landscaping to follow the contours of the hillside and surrounding land.
Demolition South West is now on the lookout for another yard that will be home to the crusher when it's not out on mobile duties. It will be the main focus for the new material processing facility.
"Our business has come a long way in a short period of time," Darren says. "In addition to the plant we are now running a couple of trucks with hook-loaders and around half a dozen vans. Now going forward, I feel that the crusher would benefit from having a new wheeled loader to work with it – that will potentially be from the Hyundai stable – and possibly another 40-tonne class excavator will join the fleet. It's an exciting time for the business and I'm looking forward to pushing it on."