T Casquero which has been in the machinery spares and sales business since 1977, is located at Benavente North West of Madrid in Spain. They were visiting primarily to look at used tractor cabs to replace some rusting ones back home in Ireland, obviously in Spain it doesn't rain so much so many items on used equipment remain in excellent condition apart from some paint fading issues from the constant barrage of sunlight. They hold massive stocks of old and newer machines at their purpose built premises which cover an area of some 230,000 square metres.
The stock covers agricultural, demolition and earthmoving machinery as well as cars, trucks and motorbikes. As one can imagine there were many gems to be found basking in the scorching Spanish sunshine, some rarer than others, but all in all a great day out for anyone who has hydraulic oil running through their veins!
This old Terex 82-50 dozer is enjoying a long siesta by the look of it, flanked by an old Case 580F backhoe loader. The Terex 82-50 was a heavyweight dozer which was first introduced in 1973, it was powered by a Detroit Diesel 12V-71 engine which gave it 370hp. Although it was a powerful dozer it was often described as being far too heavy, production ended around the early 1980's
Some old classic excavators can be seen in the first photo, in the shape of an Akerman H25C and a couple of unidentified Poclains, as well as a more modern Liebherr 952.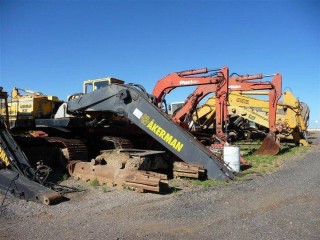 I wonder how many years have passed since many of the machines lying here have moved a track or wheel in anger?
There were many examples of O&K excavators in stock, some of which were already in the cannibalisation stages but many like this RH30C model were for sale as a runner, in this shot Allistair tries the machine out for size.

This RH30C doesn't appear to be so lucky as its cab has been removed and it maybe being used as a donor machine to help keep the many RH30's around the world keep going.
Other machines which are for sale intact are this O&K RH40E, Komatsu PC1000SE and a Caterpillar 375ME
In this shot Allistair stands by a pair of classic Caterpillar 200 series excavators, in this instance 245DME models.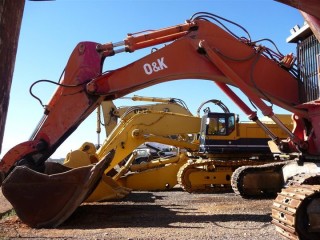 The 245D was introduced in 1992 as a direct replacement for the outgoing 245B II, it was equipped with a Cat 3406 engine which produced 385hp. At its time of introduction the machine was said to have more power than the 245B II but with a reduced engine speed of 1,800 revolutions per minute. Production of the 245D ended in 1994 during which time over 400 machines were built.
And finally a superb photo of two Caterpillar 631B single engine motor scrapers caught in the frame of a heavily patched up boom off the O&K excavator. These two scrapers of 1978 vintage are in very good condition and ready to go to work. Now if I could just win the lottery I would buy one for a weekend toy!
A big thank you to Allistair for sharing these photos with us here on the Digger blog.