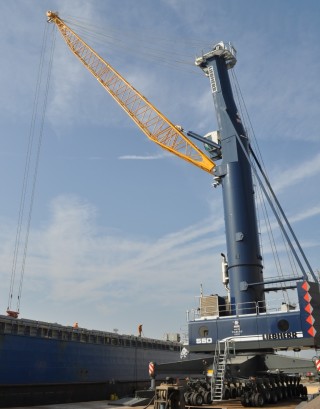 Newly arrived at Tilbury docks in Essex, it is a Liebherr LHM 550.
It has a maximum safe lifting capacity of 144 tonnes and a boom length of 54 metres. It weighs in at more than 400 tonnes and stands 79 metres high.
It arrived on a boat full assembled from the factory in Rostock, northern Germany. After a four-day sail it simply drove itself off the boat onto the quayside and went to work, as you can see in the picture below.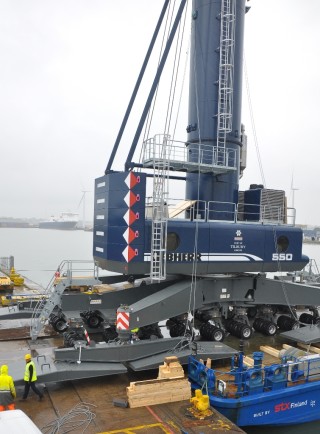 Despite the global conquest of the standard ISO container, there is still pretty good demand for this type of bulk handling cranes in ports and harbours.
It always struck me as curious, however, the inability of the two leading manufacturers to agree what they should be called. Liebherr calls them 'harbour mobile cranes' while Gottwald – part of Terex, these days – has always called them 'mobile harbour cranes'. Personally I'm with Gottwald on this one, though I'm not sure how much it matters.