Ras Al Khaimah in the United Arab Emirates is the largest limestone quarry in the Middle East.
It runs more than 250 machines, including 38 Terex TR100 rigid trucks, plus 20 of the previous 3311 and 33100 models.
"We work 24/7, 365 days a year here and working hours on a machine can easily reach 7,000 hours per year," says technical and operations manager Simon Turner.
The quarry reaches 800m into the mountains behind Ras Al Khaimah, with more than 20 active digging benches and up to 30km of quarry face. The lowest working area is 40m above sea level and the highest up to 450m above that. Using computer-aided design, geophysical drilling and laser profiling, the experienced quarry team carries out blasting six days a week, with more than 120,000 tonnes of material being excavated each day.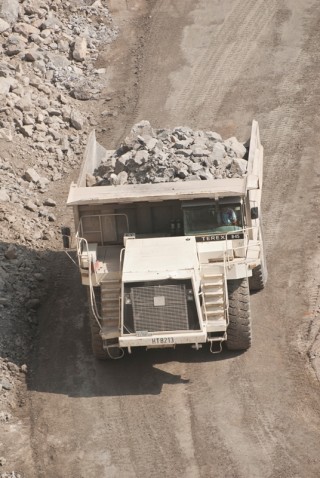 A mix of wheel loaders and crawler excavators load the limestone into a fleet of 110 rigid dump trucks, that carry the material to a range of crushers, screens and finally to an all-weather harbour for shipping out.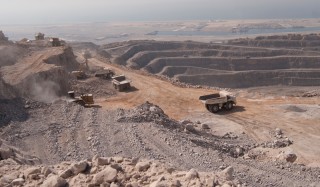 Mr Turner took over running the site last summer and has since overseen a 15% rise in efficiency and a 30% rise in productivity, just by improving logistics.
"We've done a lot of time cycle analysis to see where improvements can be made. We're also looking at excessive truck idling and correct positioning for better efficiency. We look at everything from an efficiency point of view now," says Mr Turner.