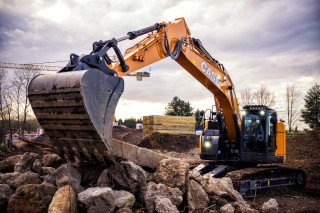 Case says that the CX245D SR is designed to provide increased digging and lifting power in confined work areas.
You'll see from the photos that it has a compact counterweight and modified boom placement that minimises the machine's footprint for urban construction sites or working alongside roads or rail lines where space is restricted.
Operating weight is 26 tonnes and power output from the Stage IV engine is a 160 horsepower. The engine combines selective catalytic reduction (SCR) and diesel oxidation catalyst (DOC) technologies, to remove the need for a diesel particulate filter. The AdBlue tank needs to be refilled every five fuel refills.
An electronically controlled hydraulic pump and larger control and solenoid valves increase lifting capacities and improve responsiveness, Case says.

They combine with the Case Intelligent Hydraulic System – auto idle, torque control, boom economy control (reduces revs by using gravity during boom down and swing), swing relief control (reduces hydraulic power at the swing start), and spool stroke control (adjusts hydraulic pressure during digs).
With improvements to the spool stroke control (SSC) system, the CX245D SR excavator re-uses hydraulic fluid whenever possible to automatically increase cycle times and efficiency. According to Case, this makes for a more productive machine without losing the precision of the controls.
Standard features include a heated air-ride seat, Bluetooth radio and rear-view camera.
Optional features include travel alarm, a three-camera system, an LED working light package and oil sample ports for quick sampling of engine and hydraulic oils.