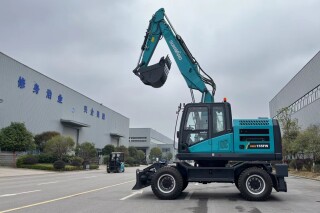 The SWE 155FW wheeled excavator is launched this week by Sunward Europe at the Belgian trade fair Matexpo.
The new machine adopts the design characteristics first seen on Sunward's F-series family that was introduced at Bauma 2022.
The SWE 155FW has a two-piece boom and an operating weight ranging from 14,700 kg (blade) to 15,400 kg (blade and rear stabilizers).
Powered by a Cummins QSF3.8 engine, it delivers 155 kW at 2,200 rpm. The inline four-cylinder design and 3.8-litre displacement reduce both fuel and diesel exhaust fluid consumption by up to 3%, it is claimed. Compared to its predecessor, this engine delivers 10% more power and nearly 20% more torque across the entire rpm range.
The Cummins engine comes with a two-stage filtration system, reducing maintenance costs and downtime. With 620Nm of engine torque, operators can use five programmable attachment work modes to adapt to various work environments.
Not only is it less thirsty, the SWE 155FW has a 320-litre fuel tank, so needs refuelling less often.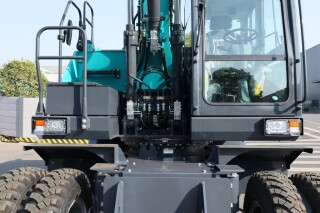 For the hydraulics, Sunward has partnered with Hengli to create a positive flow control system that dramatically reduces power losses, it claims. Hydraulic system pressures reach 31.4/34.3 MPa to cope with the rigours of digging and lifting.
The SWE 155FW offers three configurations – a dozer blade that is also designed to function as a stabiliser, a dozer blade with two rear stabilisers, and two front stabilisers with two rear stabilisers.
Another design feature is the three separate auxiliary lines, which come as standard. Two of these lines are equipped with shut-off valves, ensuring leak-free attachment installations. Aux 1 is on the boom of the arm, primarily serving the hydraulic quick-hitch. Aux 2 caters to the demands of more flow-hungry attachments like breakers. Aux 3 offers a lower flow rate and serves as an additional line for attachments equipped with two actuators, enhancing adaptability.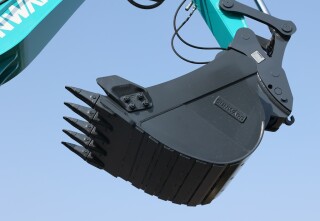 Sunward Europe product manager Hans Driesen says: "As we embarked on this journey through its remarkable features, we discovered a machine that redefines the industry's standards in more ways than one. From its awe-inspiring design, combining strength with agility, to its robust performance and eco-friendly credentials, the SWE 155FW leaves an indelible mark.
"Our design choices result in a machine that provides so many standard features, premium-brand key components, and capabilities at the right price. And furthermore, Sunward's own genuine spare parts are economical as well – and all of this best value for money is crowned by up to three years of warranty."