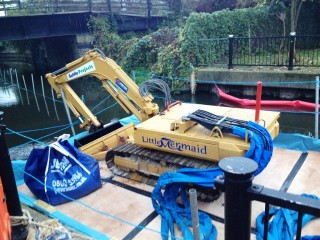 Suttle converted a conventional Kubota mini excavator last year for underwater use. They removed the cab and engine to operate it remotely by hydraulic cables. They reckon it is the only one of its kind in the world.
The Little Mermaid, as they call it, was developed in response to a scour protection project for main contractor Osborne. The river bed needed to be dug out and replaced at the River Colne, near Staines in Surrey. The deep, fast-flowing water and low headroom of a bridge meant that traditional sheet piling techniques were not viable. The headroom was too low for a standard mini excavator to be used on a pontoon with an operator sitting in the cabin. And the water was too deep to over pump the channel or divert flow to create a temporary dry work environment. Therefore, with Osborne's cooperation, Suttle came up with this solution.
The Little Mermaid was deployed to scoop out the existing river bed. Divers then set out grout bags – which had to be hand-placed underwater and layered to the right levels. Finally silt could be laid over the top of the hardened grout bags.
The reduced 800mm height of the cab-less machine (compared to the standard height of around 2.7 metres) meant it could work effectively under the bridge, controlled by an operator standing a few metres away.

The Mermaid took 18 months to build in-house and the project cost £65,000 overall. The remote control unit was connected via hydraulic umbilical leads, supplying the machine with hydraulic power. It works on a hydraulic pressure of around 150 bar, with a flow rate of 25-50 litres per minute, and weighs four tonnes. It is currently set up to work underwater up to 25 metres deep, but Suttle reckons it can easily be set up for deeper water conditions if required.
Osborne site manager Paul Fagan says: "The use of this self-developed technology simplified a complex operation, significantly reducing the time divers had to spend in the water. We are delighted with the outcome of this project and always look to new technology and better ways to deliver results."
Suttle Projects director Joe Paine adds: "On a previous scour protection project with extremely heavy rainfall and a very low railway bridge, we used divers to place concrete, and also had to excavate with a type of venturi water suction pipe, suspended from our pontoon. Although this did provide a solution, it was time consuming and costly. We soon realised that a conventional small excavator that was able to work freely under water would provide the ideal, innovative solution. We could find nothing of this type on the market globally, so with support from Ross Welsh at Pirtek Poole, who specialise in fluid transfer solutions, we decided to build our own machine, the Mermaid, which we can also hire out to other companies, too. By collaborating with Osborne to use this equipment in the project, we were able to provide an efficient and cost-effective solution for what was historically a complicated and expensive task."