Ask any operator worth his salt what his favourite mini/midi excavator is to operate, and I guarantee 9 times out of 10 he will respond with Takeuchi. The Japanese manufacturer's machines are developing a cult following on sites all over the UK, with many customers specifying them when hiring from the large plant hire companies. It's the combination of smooth and precise hydraulics, speed, power and the fact that they are generally a very operator friendly machine, that makes them so popular.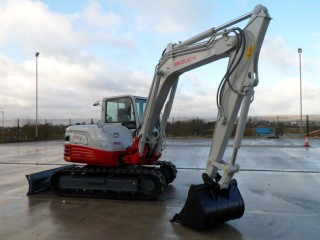 Takeuchi's brand new TB285 hydraulic excavator is the replacement for the highly successful TB175. The TB175 has been in production for nearly 11 years having been first launched in April of 2000, during that time a total of 10,212 units have been sold worldwide, with 1,763 of the popular 7.5 ton machines being sold into the UK & Eire markets. The TB285 looks certain to carry on the legacy which has been set by the TB175, and is going to be an even bigger hit with customers of the distinctive red and grey machines.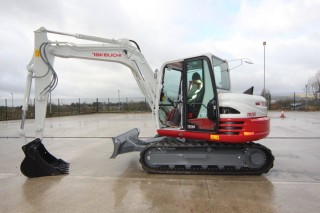 The TB285 has increased weight, with the machine tipping the scales at 8465kg when fitted with rubber tracks and 8700kg when fitted with steel tracks. As one would expect maximum bucket digging force is also increased on the TB285 at 59.1kn compared to 52.7kn on the old TB175. In addition maximum arm digging force is increased to 36.3kn. Power comes from a Yanmar 4TNV98T turbocharged interim tier 4 compliant diesel engine, which at 49.6kw/66.5 hp produces 9.5% more power than the previous engine and an impressive 24.6% more torque. The engine has been repositioned and the machines large opening bonnet makes access for servicing much easier.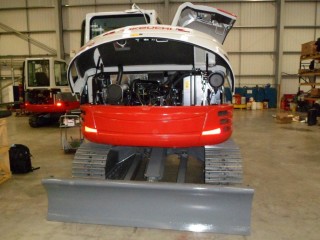 In addition to the rear engine bonnet, a large side cover further enhances accessibility to vital components, including hydraulic tank, hydraulic control valves and the fuel tank. Incorporated within this cover is a smaller inspection panel which gives the operator access to the fuel tank and refuelling pump for day to day filling up, without the need to lift the whole cover up.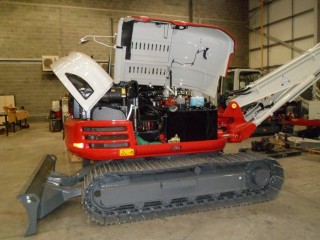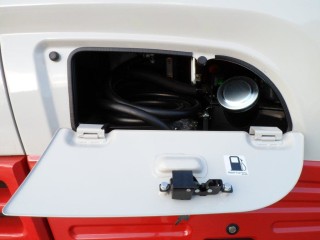 Although not a zero tailswing machine, the TB285, with its rounded corners is very compact, offering a tailswing of just 1650mm compared to the outgoing TB175 at 1720mm. On this model Takeuchi have adopted a closed centre hydraulic system, which is said to offer greater delivery of oil to the operating functions, which will improve cycle times and be much more fuel efficient. Primary and secondary hydraulic circuits complete with an adjustable flow control system and dual proportional controls are now fitted as standard, to facilitate the fitting of a whole range of attachments including, augers, hammers, crusher buckets and tiltrotating systems.
Boom arm pins & boom bracket pins on the TB285 have been increased by 5mm, when compared to the old TB175. In fact at first glance all pins look to be significantly beefed up on the TB285, which can only be a good thing, as I have heard rumour of some excessive pin wear on some machines in the field, so it looks like the team at Takeuchi are addressing this problem, as one would expect.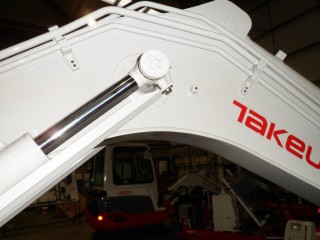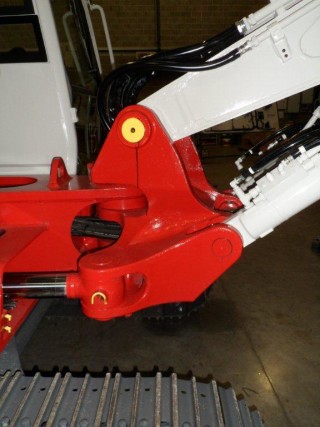 The TB285 is built for strength and durability with 100% steel panels to protect vital components and a built-in counterweight that not only protects components but also offers superb stability on rough terrain. Hydraulic lines and hoses have been re-routed to prevent damage from attachments and external obstacles. Heavy duty triple flange track rollers are fitted and the all new dozer blade, which features more curve to allow good material rolling, has a well protected cylinder to prevent damage from overspill.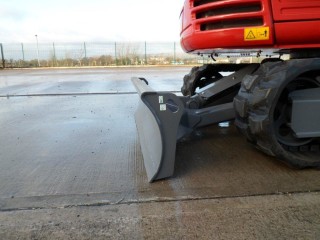 I took to the controls out in the yard, sadly on this occasion there was no chance to put the machine to work as there is currently no digging plot in Rochdale, but a series of dig-ins are planned, so I will hopefully be attending one of those in the future. Once in the cab, it became clear that interior size has been increased significantly on this machine with plenty of legroom for even the largest operators. There has been a lot of talk about mini/midi cabs not being big enough inside, well in my opinion if you can't get comfortable in this cab maybe you are in the wrong line of work! I found it a very pleasurable place to be, with a well laid out array of switches to my right hand side, and all the essential creature comforts we have become accustomed to these days, including the fully automatic heater/air-conditioning controls, radio, 12 volt charging port and even an mp3 socket. Visibility was excellent all round, and the addition of 4 mirrors as standard fitment can only enhance the view on site, especially as many groundworkers have a terrible habit of creeping up on your blind side without catching your view first!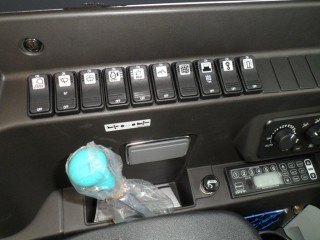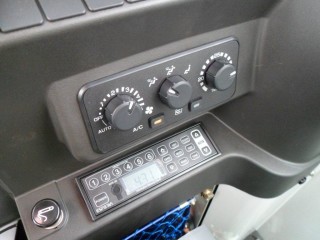 An all new, 10 way adjustable high back suspension seat, has been fitted and new adjustable arm rests which offer the operator the most comfortable position to operate the precision pilot controls. The addition of a large top window is an added benefit, especially when loading trucks from ground level or when keeping an eye on those dreaded overhead cables that we often encounter on sites, a neat sunshade is provided which helps to prevent glare.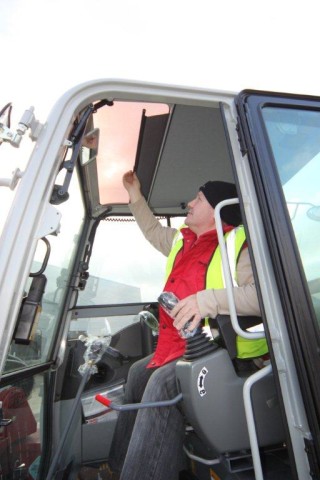 The cab floor is uncluttered with a foot rest to the left and the boom off-set rocker pedal control to the right, for those operators who prefer to use their feet for tracking, a neat pair of foldaway foot pedals are included, with a two speed tracking switch incorporated in the hand controls.
Included in the bank of switches to the right of the operators seat are the auto-idle mode button, which as is the norm these days cuts the engine revs down to idle when the controls are not used for a specified amount of time, a new eco-mode button which when selected for performing lighter excavating jobs, optimizes the engine and hydraulic system offering further improved fuel economy. There is even an altitude mode switch, which when selected apparently maintains the machines peak performance when working at high altitudes!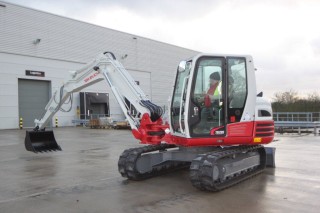 I put the machine through a simulated dig on the concrete yard, and as I expected it was a pure delight to operate, it has everything we have come to expect from the Takeuchi product over the years and more, the silky smooth hydraulics and precise movements make any operator's job easy and enjoyable. I am definitely looking forward to getting down and dirty with this machine at the dig-in later this year, so lookout for that here on the Digger Blog.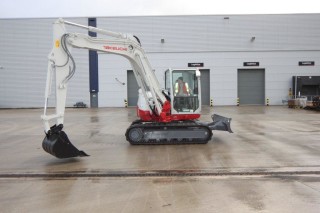 I would like to thank Gemma Sharpe and the team at Takeuchi UK for the excellent hospitality during my recent visit.